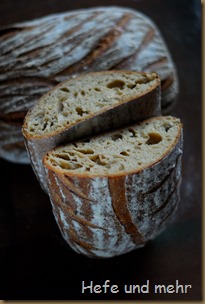 Old grain species like Einkorn, Emmer and Kamut enrich the diversity of bread flavours and gives us a lot of new possibilities for baking. When I thought about a theme for the ongoing  Bread Baking Day I realized that I did not bake with these grains for a long time. And so I bought Emmer, Einkorn and Kamut on my next trip to the whole food shop.
Kamut is the trade name of the Khorasan wheat. As a genetical analysis from 2006 showed that its origin lies in the fertile crescent and that it stems from a natural cross between durum wheat and Triticum polonicum. Its flour has, similar to durum flour, a creamy yellow colour and can be used similar to wheat flour.
Because kamut is rather expensivI normally mix wheat flour with kamut flour, and so I did in the bread, too. The honey I added to the dough pairs very well with the mild yoghurt flavour of my very active sourdough and the nutty nuance from the Kamut. The honey although enhance the dark crust colour while some stretch and fold cycles helps to create an open crumb.
Honey bread with Kamut
yields 2 breads
Sourdough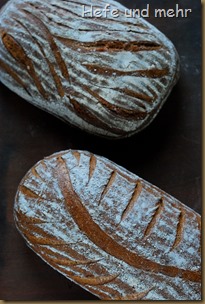 200g flour Type 550
200g Water
20g very active sourdough starter
Dough
300g Kamut, freshly milled
500g flour Type 550
500g Water
sourdough
60g honey
20g Salt
(optional 5g fresh yeast, if your starter is not so active)
Mix water, flour and starter for the sourdough and ferment it  for 12 to 16 hours at 25°C.
Mix flour and water for the dough. Let it rest for 30 min, then add honey, sourdough and salt. Fold it from the outside of bowl into the middle for 5 min.
Let rise for 2 hours, stretch and fold three times during this time.
Shape the dough into two loaves, place them in well floured breadforms seamside up.
Proof for 2 hours.
In the meantime preheat the baking stone to 250°C.
Slash the loaves directly before baking.Bake for 10 min at 250°C then reduce to 200°C for 40min with steam on a hot stone.
I sent this entry to Yeastspotting, Susans weekly showcase of yeast baked good.