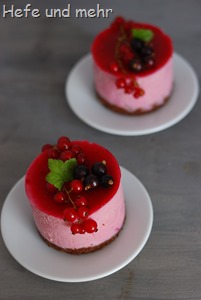 In  my parents garden grows one single cassis bush next to the red currant bushes. When I was picking berries two weeks ago I sneaked some cassis into my bowl as well, as I had already the plan in my mind to serve little mousse cakes for the Sunday coffee with my parents.
Light mousse cakes made with Joghurt, berries and white chocolate are especially delicious on hot summer days. I did something similar already as filling of this raspberry charlotte. This time I topped a chocolate sponge with a mousse made of a mixture of red currant and cassis. The mousse hides a kernel of currants and cassis compote. It is a delicious little cake with a slight sourness and bit of sweetness, perfect for lazy Sunday afternoons.
Black and Red Currant Mousse Cake
yields 6 Mousse Cake (round: 8 cm Diameter or square 7,5x 7,5 cm)
Black and Red Currant Kernel
75g red currant
30g black currant
15g Water
30g sugar
1g Agar
Chocolate Sponge
2 eggs
65g sugar
1 Pinch Salt
2g baking powder
20g Starch
50g flour Type 405
10g cacao
Black and Red puree
150g black currant
300g red currant
40g Water
Mousse-Filling
200g Cassis Currant puree
4g Agar
150g white chocolate, chopped
300g yoghurt (3,5% fat)
200g cream
2 egg white
100g sugar
Currant Jelly
50g Water
0,5g Agar
30g sugar
50g Black and red Currant puree
Black and Red Currant Kernel: Bring the berries to boil and cook them until soft. Pass through a sieve. Measure 275g of the puree and bring it with sugar and agar to boil. Let it boil for about 2 min, then fill in the 7 wells of a muffin form. Freeze for at least 2 hours.
Sponge: In the meantime whip eggs with sugar and salt until foamy. Now sift the flour, baking powder and cacao over the egg sugar mixture and fold everything carefully into the batter.
Spread the dough on a baking tray (on an area of  35×18 cm)and bake at 180°C (convection mode) for 14 min. Let cool down.
Mousse Filling: Head the Black and Red Currant puree with agar and milk until it starts boiling. Boil for another 2 min.Stir in the chocolate and let stand for 3-5 min and until the chocolate melts. Warm the yoghurt to 35°C and fold in the raspberry mixture.   Let cool down to 35°C.  In the meantime whip the  egg white with sugar over boiling water to stiff peaks and whip the cream as well. Fold both it into the mousse. Pour the mousse in the prepared cake rings. Let set for about 1 hour in the fridge.
Assambly: Cut sponge disc in the size of the cake rings. Fill with 1/3 with mousse filling  then lay the cassis currant kernel on top. Fill with reaming mousse. Cool for 1 hour.
Raspberry Jelly: Bring , water and agar and cook for 2 min. Mix in the Black and Red puree and pour on the top of the torte. Place in the fridge until serving (at least 2 hours).