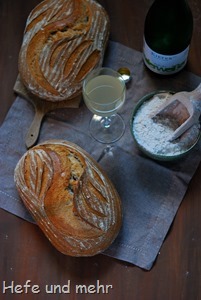 Two years ago I had the idea to bake a bread which is only leavened by the yeast of a young wine (Federweißer). That worked good and was delicious, as you can see at this great breads of others bloggers. When I planned what to bake for the goodby party of my favourite ex-colleague (it is a double ex as we both have left now) there was again a flask of Federweißer sitting on the counter. The dearest was not around to rescue his beloved wine from misuse and so a not negligible amount of it was used to make a rye poolish.  To give the bread a hearty flavour, I prepared a sourdough as well.
The bread developed a good flavour with a slight sweet note from the young wine. The crumb was soft and the crust was crunchy. I hope, that you believe me that, as I can not provide a crumb shot because the bread was a present which I could not cut in advanced, of course.
Federweißer Bread 2015
yields 2 Breads
Federweißer-Poolish
400g Federweißer (young wine)
200g rye flour Type 1050
Sourdough
150g rye flour Type 1050
150g Water
15g sourdough
Dough
Federweißer-Poolish
Sourdough
850g flour Type 550
220g Water
50g Butter
20g Salt
Mix flour and federweisser for the poolish and ferment for about 12 -16 hours at room temperature.
For the sourdough mix flour and water and sourdough starter and ferment for about 12 -16 hours at room temperature.
The next morning knead all ingredients 5 min at the slowest speed and 8 min at higher speed until medium gluten development.
Let rise for 2 hours
Divide into two pieces and form into round loaves. Place the bread seam side up in a bread form.
Let proof for 6 hours at room temperature or over night in a fridge.
Preheat the bread baking stone for one hour at 250°C.
Slash the breads with a curvy pattern. Bake them for 10 min at 250°C with steam, then turn the temperature back to 200°C and bake the bread for another 30 min .