When I talked with my mum on the phone some weeks ago, she asked me if I had an idea for a recipe.  She had a rye sourdough fermenting in the kitchen and was now looking for recipes (I know where I got my tendency to start a preferment before deciding what to bake.) I just baked a delicious Wheat-Rye bread and some minutes later I had drafted a "sibling" of this recipe which fits to the preferment and sent it to my mum. The next day she send me some pictures and wrote that they all liked the bread very much, so I kept the recipe in the back of my head as "to be baked".
When I was thinking what to bake as move-in present (in germany the classical gift for a new flat/house is the symbolic bread and salt), I remembered the recipe and I finally I baked it. And I like it as much as its faster sibling. It is an aromatic bread  with crisp crust and tender crumb. It is a perfect everyday bread and tastes delicious with sweet things like honey and jam as well as with hearty cheese.
Göppinger Bread
yields 2 Breads of 800g
Sourdough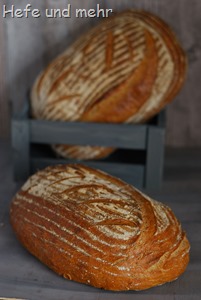 20g rye sourdough
200g rye flourType 1150
200g Water
Dough
sourdough
800g flour Type 550
450g Water
50g Butter
20g inactive Malz
20g Salt
15g fresh yeast
Mix the ingredients of the sourdough and let it for 12-16 hours at 25°C.
Knead all ingredients 5 min at the slowest speed and 8 min at higher speed until medium gluten development.
Let rise for 1.5 hours
Divide the dough into two parts and form to two oval breads. Place in two floured proofing baskets.
Proof for 1.5 hours.
In the meantime heat the baking stone at 250°C .
Place the loaves on peels and slash lengthwise (make some shorter, decorative slashes if desired). Place the breads in the oven with steam. Turn the temperature back to 190°C after 10 min and bake the bread for another  40 min .