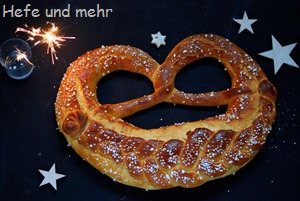 Relaxed and in good company was our start into 2016. I hope, you landed good in the new year as well!
For a late breakfast we always have the traditional new year pretzel and for this one I did something I planed to do already for some time. I transformed the favourite sunday braid recipe to spelt flour. To increase the water binding capacity, I added a water roux and for a stronger starter, I build the dough similar to a pandoro with a first and a second dough. This enhance flavour and makes the yeasts stronger as they already have the change to adapt to the higher sugar content.
When kneading it is important to take care of the fragile gluten network of spelt. As spelt over kneads easily , it is a good idea to keep an eye on gluten development. Then you can perfectly hit the point of full gluten development and you will be rewarded with a dough that is beautiful to handle.
As my oven only can bake one pretzel at once, I formed only half of the dough and left the other half in the fridge for another 30 min. Then I formed a braid from the remaining dough and it was proofed just in time when I take the pretzel from the oven.
Baked in the old year, tasted in the new one – that's how a year should start. The crumb was tender as a dream and flavour was complex with a hint of orange. Now we are ready to face the next 366 days 🙂
Spelt New Years Pretzel
yields 2 Pretzel or a Pretzel and a braid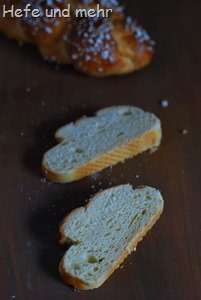 Sweet Starter
Water Roux
150g Wasser
30g Dinkelmehl Type 630
1. Dough
Sweet Starter
110g Egg (2 Eggs size M)
100g Spelt flourType 630
30g sugar
20g Butter
2. Dough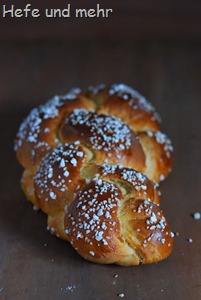 1. Dough
Water Roux
740g Spelt flour Type 630
300g cream
75g Water
120g sugar
80g Butter
15g fresh yeast
8g Salt
6g Orangen powder (or the grated peel of 1 Orange)
Decoration
1 Egg (whisked)
pearl sugar
Mix the ingredients of the sweet starter and let it rise for 2-4 hours at 30°C.
For the water roux whisk water and flour until lump free, then heat it up to 65°C (needs about 3 min) while whisking. Fill the water roux in a bowl, cover its surface with cling foil and let it cool down to room temperature.
First dough: Mix all ingredients to form a homogenous dough. Ferment for 2 hours at 30°C.
Second dough: Knead all ingredients except sugar and butter for 8 min at slow speed until medium gluten development. Now add the sugar in small increments and knead until the sugar is incooperated before adding the next sugar. At last add the butter all at once. Knead to full gluten development.
Let rise overnight in the fridge or  for one hour room temperature plus 1-2 hours in the fridge.
Divide the dough into two equal parts. Place one part in the fridge. From the other half take three pieces of 65g each. Roll the smaller portions into strands of 35cm each and braid them to a braid. Roll the big part into a long strand of 120cm.  Place the big one on paper lined baking tray and form to a pretzel. Wet the surface of the pretzel a bit and place the braid on top of the thickest part of the pretzel.
Proof for 90 min.
After 30 min take the other half of the dough from the fridge. Form another pretzel or form a braid by dividing the dough into 6 pieces and rolling them into strands (each about 30 cm), then braid them. Proof for 90 min as well.
After proofing brush the first pretzel with egg and sprinkle with pearl sugar . Bake at 180°C for about 30 min with steam. Now bake the other pretzel accordingly (for the Braid: 180°C with steam, 40 min).