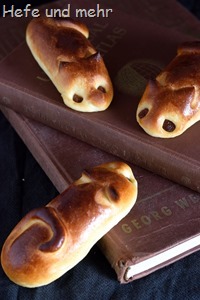 A reader told me about "Schulmäusen" (School mice), a small sweet roll filled with hazelnut praline. She tried to bake similar rolls in a spelt variant but struggled with them getting to dry. My brain worked a while on this idea in the background and came up with a recipe at the end – just in time for school start. As the name "Schulmaus" is a brand name, I decided to call my rolls Spelt mice and formed most of them like a mouse, too. But if you do not roll one end into a long tail, then you get the original form, too.
They are not a healthy snack, but a treat for small and big ones with a sweet tooth. The crumb is fluffy and the filling creamy – a good way to make school start a bit sweeter!
Spelt Mice
yields 22-24 Spelt mice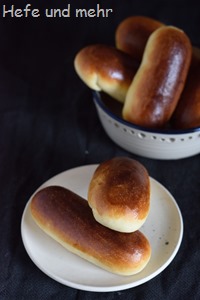 Biga
120g Spelt flour Type 630
60g Water
1g yeast
Water roux
150g cream
30g Spelt flour Type 630
Dough
350g Spelt flour Type 630
100g Milk
9g yeast
40g egg yolk (of 2 Eggs Size M)
5g Salt
50g sugar
50g cold Butter
Filling
250g Hazelnut Praline (cooled for a easier handling)
Glazing/Topping
1 Egg
24 rasins, cut in half
Mix the ingredients of the biga and let the biga ferment in the fridge for at least 16 hours.
For the water roux mix flour and cream and bring to boil while stirring. Cover with clingfilm and let it cool down to room temperature.
Knead all ingredients except sugar and butter for 8 min at slow speed. . Now add the sugar in two increments and knead 1 min after add each portion of sugar. At last add the butter all at once. Knead to full gluten development.
Let the dough rise for 1 hours.
Knock the air out of the dough and divide the dough into pieces of 40g and shape them into balls. Let them relax for 10 min, in the meantime cut the cooled praline into small bars of 10g each (length 6 cm). Place them in the fridge until needed.
Now roll each piece of dough into a square of 7.5 x 10 cm. Place a praline piece on the short side and roll up tightly.  Seal the tips by rolling them long and fold them on the seam. Roll the roll a bit long, to seal the seam. If you want the plain roll, they can be placed on a paper lined baking tray.
To form mice, roll one end into a long tail (1/2 of the length of the role), and lay the tail a bit curled on the back of the mice. Place on a paper lined baking tray.

Proof for 1 hour.
Now glaze with egg. With scissors cut to ears in the dough and press to raisins deep into the head of the mice.
Bake at 240°C for 12 min with steam.