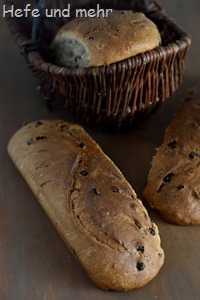 I'm totally thrilled about all the little jewels I meet in range of my "regional bread" series. From Annette I got describtion of the Bread Onjeschwedde, which is a raisin bread speciality of Rheydt – a  part of Mönchengladbach.  It is baked with the loaves touching each other a methode which keeps the bread very soft and moist. Before baking it is slashed with a curved long cut and some small cuts on the sides. The so called "Rheydter Flower".
The name "onjeschwedde" means literally "not sweated" and means that the bread is made with "green" flour – freshly milled flour of newly harvest grains. This flour contains more moisture then a ripened flour which looses the moisture – it sweats! As it was just harvest  time, so I called my local mill and ask. And indeed they promised me fresh flour for September.
The second special thing about this bread is that it is made with a huge amount of rye – 40% to be precise. It is the first sweet bread I met with this high amount rye! And so I used sourdough as preferment, which adds a deepness to its aroma, rounded by a faint cinnamon flavour. Sweetness comes from a bit of sugar and currants.  The taste is something special, a sweet bread but with its very own, distinct flavour. A great bread which needs nothing more then a bit of butter!
Onjeschwedde
yields 4 Breads of 500g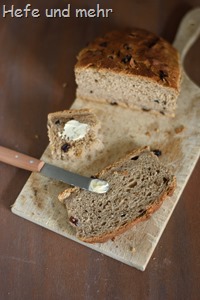 Sourdough
150g rye flour type 1150
150g Water
15g sourdough
currant soaker
200g currants
100g orange juice
Dough
Sourdough
600g flour Type 550
250g rye flour Type 1150
410g Water
5g cinnamon
5g Anise (optional)
20g fresh yeast
18g Salt
120g sugar
150g Butter
for glazing
Mix the ingredients of the sourdough and let it rise for 16  hours at 25°C.
Knead all ingredients except sugar and butter for 5 min at slow speed. Now add the sugar in small increments and knead until the sugar is incooperated before adding the next sugar. At last add the butter all at once. Knead until all butter is incooperated.
eLt rise one hour temperature .
Divide the doug  into pieces of about 500g and roll them into long loaves. Place on a baking tray with 1-2 cm distance. Brush lightly with butter.
Proof for 60 min.
Cut with long curved slashes prior to baking.  Bake at 180°C for about 60 min with steam.
After baking, brush lightly with butter while still hot.