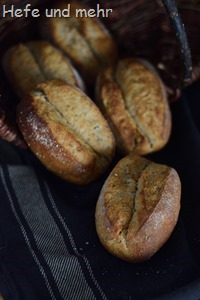 Finally I can post the first recipe in the upcoming post series of "regional breads" and can tell you how I came to this idea.
It all started with an email from the  Magazine "Ö", asking if I could develop some recipes form different German regions for their September issue. Of course I could and shortly after I was whirlwinding in the kitchen, baking Eastfrisian Blackbread, Schrippen from Berlin, Cologne Röggelchen, Göppinger Briegel, Swabian Spelt bread and Bavarian Farmers Bread. At the end of the week the bread was stacking in my kitchen and some colleagues and family members would find anonymous gifts of bread or rolls 🙂 I sent the recipe together with some Gerstl to the photographer who bake the bread, too and took the pictures.
How the breads I baked looked like you can see in the collage on the right side,  a preview on the printed product can be found here, you just have to leaf through the magazine.
But the idea of local breads was now fixed in my brain. And I knew there would be so much more "special" breads then I knew. And so I asked you – my readers – for ideas. And I got so many recipes from you already – and I'm still collecting. Some breads – like Onjeschwedde – are very lokal and sesonal, too. I'm very exited to try them!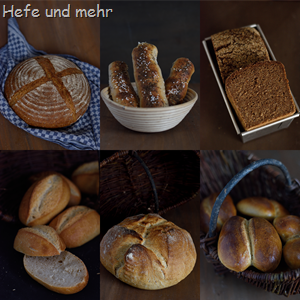 My starting point into the world of regional bread is a roll from the south German city Regensburg, called Regensburger Kipferl. It is baked with a good amount of caraway seeds, and contains a portion of rye flour, too. Some bakers, like the Bakery Ebner, add some spelt flour, too. An Idea which I like instantly. And so I bake my Kipferl with 20% Spelt, 30% Rye and 50% Wheat flour. A part of the rye is used in a sourdough and all of the spelt is added as Pâte Fermentée. The two different preferments add a hearty flavour which is underlined from the mixture of whole and grounded caraway seeds.
I bake the rolls already twice, once at home to capture pictures of the forming process, and once at the "house warming party" in raum44 – where I will give baking courses soon. And so I could test how they turn out with and without diastic malt. The Diastatic malt has subtle but recognizable effect on crust and crumb, enhancing their crispiness and making them a bit more fluffy. But even without malt it is a great roll, hearty and delicious!
Regensburger Kipferl
yields 9 Rolls
Sourdough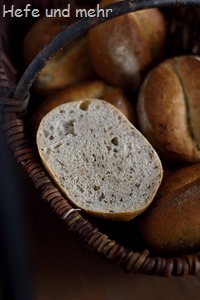 100g Whole Rye flour
100g Water
10g sourdough
Pâte Fermentée
100g Spelt flour Type 630
70g Water
2g fresh yeast
2g Salt
Caraway Soaker
Dough
sourdough
Pâte fermentée
Caraway soaker (including the Water)
50g rye flour Type 1150
250g flour Type 550
100g Water
20g Oil
5g Diastatic Malt (optional)
3g grounded caraway
9g fresh yeast
8g Salt
Mix all ingredients for the Pâte Fermentée and proof it for 1 hour at room temperature. Then put the dough into the fridge for at least 12 hours.Knead all ingredients for the dough for 10 min by hand. The dough should be now soft, but not sticky.
Mix the ingredients for the sourdough and let it rise for 14-16 hours at 25°C.
For the soaker, mix all ingredients and place them in the fridge over night.
Knead all ingredients for 5 min at slow speed. Then knead 10 min at fast speed. The dough should be now soft, but not sticky.
Let the dough rise for 1 hour at room temperature.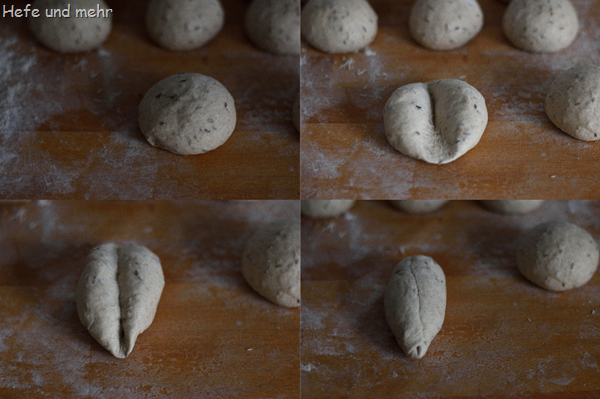 Divide the dough into 95g portions. Form them into round balls and let them rest for 15 min. Now press them down lengthwise with the side of your hand, fold them together and roll it to a long shape.
Proof for 40 min.
Preheat the oven to 225°C.
Turn the rolls, so that the cut side face upside once again, and place them on a paper lined baking tray. Mist with water and bake with steam for about 20-25 min at 225°C. For really crisp rolls turn to convection mode during the last 5 min.