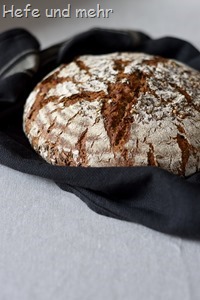 I was asked more than once to publish a sourdough rye bread recipe for the "Bread baking for Beginners" post series. I hesitated as a rye bread is not so easy to handle as a wheat one and to know when a pure sourdough loaf is ready to bake needs some experience. But with the Rye bread without sourdough we had already the right starting point to step into the world of sticky rye dough – practising this bread before switching to sourdough is highly advisable.
To rise the bread with only sourdough in a reliable way, the sourdough has to be very active. If it is not so active or was in the fridge for a longer period, making a refreshment to activate the sourdough yeast the day before is a must. The rye sourdough is then build in two stages to archive a well balance flavour and a high activity. The two stages make use of the fact that lactobacteria and yeast differ in their temperature optima. The first, cooler and firmer stage is perfect for the growth of bacteria , which produce lactic acid and acetic acid. The warm and soft stage then favours the yeasts which are needed for a good oven spring.
The recipe, which I created for this post contains 60% of rye and 40% of wheat flour which makes the dough sticky but still good to handle. It is a classical german "Roggenmischbrot" (literally mixed rye bread), with a slight sour and hearty flavour. Different bread spices which are sprinkled into the bread form add a spicy note to its taste.
Sourdough bread with 60% rye
yields 1 Bread
Sourdough Stage I

50g Whole Rye Flour
35g Water
5g Sourdough
Sourdough Stage II
100g Whole Rye Flour
115g Water
Sourdough Stage I
Soaker
70g (whole grain) Bread crumbs
175g Water
Dough
Sourdough Stage II
Soaker
150g Whole Rye Flour
200g flour Type 550
190g Water
10g Salt
Topping (optional)
Bread spices(fennel, coriander and caraway seeds)
The night before, prepare the sourdough stage I: Mix all ingredients to a firm dough and let it rise for 14 hours at 23°C.
The next morning mix all ingredients for sourdough stage II and let it rise at 30°C for 3 hours. The sourdough should double its volume during this time span.
For the soaker bring water to boil and stir in the bread crumbs. Let it rest for 5 min.
Now add flour, water and salt to the soaker, add the sourdough last, so that it does not touch the warm soaker. Mix all ingredients for 5 min (either by hand or with kitchen machine).
Let the dough rest for 30min.
Form the dough to a round loaf (works best on a wet surface), flour its surface and place it seam side down in a well floured and with bread spice sprinkled proofing basket.
Proof for 90-150 min, until the surface shows cracks.
In the meantime preheat the oven together with a baking sheet to 250°C.
Turn the loaf on a well floured bread peel and let proof for another 10 min uncovered. Cracks on the surface will form during this time.
Place the loaves in the oven. Bake for 30 seconds, then produce steam in the oven. After 10 min, release the steam and reduce the temperature to 180°C and bake for another 50 min.