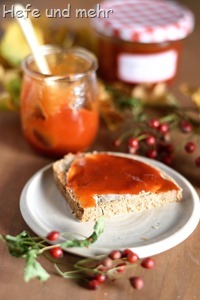 Whenever I snack tiny spoonful of the delicious rosehip jam, I close my eyes and remember sunlit wild rosebushes on beautiful morning in October. While around our home there are only few bushes with small fruits, in Swabia you can find a lot beautiful fruits. And so we used our saturday morning stroll to pick some fruits. With four people more then a kilogram is fast picked.
The fruits then traveled home with us and the next day I started making jam. Before I checked different methodes and decided to first cook them, puree them and then pass them through different sieves to remove the seeds and seed hairs. Cooking Rosehip Jam is a time consuming task but nevertheless rewarding. I find that adding enough water while passing the fruit pulp through the food mill is crucial to get all of the fruit puree through the
That's why I ended with 1 kg of Fruit pulp and about 500h of seeds. The pulp I mixed then with half of the amount of sugar and cooked for 2 minutes. Then the jam was nicely thick then and very delicious. To make sure that the jam keeps well (with this low amount of sugar) I decided to sterilize the jam as do I do it for my Zwetschgenmus. And now I enjoy the jam every morning 🙂
Göppinger Rosehip Jam
yields 6 small Glasses
1,25 kg rosehip
Water
500g suager
Wash the rosehips and place them in a pot. Cover with water and cook for 90 min. Puree the fruits in the food processor pass it first through a food mill, then through a fine sive to remove all the seed hairs.
Add sugar and heat slowly while stirring until cooking. Cook for 2 min while stirring.
Fill in sterile glasses and place in a big pot with boiling water. The lid has to be covered with boiling water! Cook for 20 min and let cool down together with the water.