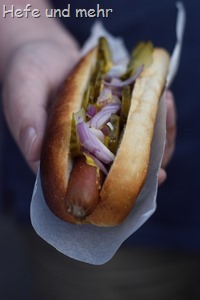 Hotdogs would be a good idea for dinner, said my love to me. I had no objections as I had in the freezer some vegetarian "Feuer-Jakob"  made from the recipe of Herr Grün. As rolls we needed homemade ones, of course! And so I fed my favourite preferment and soon afterwards I was happily kneading a dough. With a water roux and some enzym active malt the crumb of the rolls become especially soft and fluffy. To avoid cracks in the crust the rolls have to proof fully before baking – just like a burger roll.
We eat our hotdogs with home made fried onions, homemade pickled cucumbers and – for the vegetarian variant with grilled vegetables and Zucchini-Salsa. A delicious treat!
Hotdog Rolls
yields 10 rolls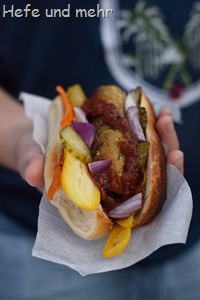 120g sweet Starter
120g flour Type 550
60g Water
Milk roux
150g Milk
30g flour Type 550
Dough
Milk roux
Sweet Starter
300g flour Type 550
10g Salt
10g fresh yeast
60g Egg (1 Egg Size L)
30g sugar
5g Enzyme active Malt (optional)
40g Water
80g Butter
Mix the ingredients of the sweet starter and let it rise for, 2-4 hours at 30°C until it doubles its volume.
Knead all ingredients except butter for 5 min at slow speed. Then knead 7 min at fast speed. Now add  the butter all at once and knead to full gluten development.
Let rise for one 1.5 hours.
Divide into 100g pieces and form to long buns. Place on a paper lined baking tray.
Cover and proof for 1 hour.
In the meantime heat the oven to 250°C.
Bake at 250°C for 16-18 min with steam.