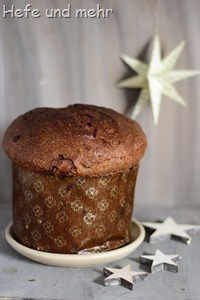 My plans for the first of advent were somehow different, but as I caught a mean cold I have to spent the day on the sofa instead of baking something delicious for Christmas. The only good thing is that I had enough time to browse through the unpublished recipes. I rediscovered the chocolate panettone I bake last Christmas but never published the recipe.
And so I used the time to publish it now, nearly a year later. It is a delicious twist on the classic recipe which combines the flavours of chocolate and citrus fruits. And just like the "normal" panettone this chocolate version is baked with sweet starter only which adds a delicious deepness to its flavour.
And with this last year's delicious treat in my mind I begin to dream about what to bake for Christmas this year….
Chocolate Panettone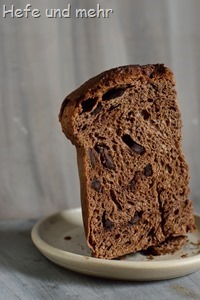 yields 2 Panettone
60g Sweet Starter (freshly made or at 2-3 time refreshed the day before)
60g flour Type 550
30g water
First dough
100g flour Type 550
10g cacao
100g egg yolk
25g sugar
Second dough
60g flour Type 550
25g egg yolk
15g sugar
5g cacao
15g soft Butter
all of the first dough
Third dough
all of the second dough
250g flour Type 550
30g cacao
5g Salt
greated Orange peel of 1 Orange
greated lemon peel of 1 lemon
275g Egg
150 g sugar
250g Butter
150g semi sweet chocolate drops
accessories
2 Paper Panetonne molds
4 30cm long skewers
Mix all ingredients for the Sweet starter and let it rise for 2-3 hours at 30°C until the volume doubled.
First dough: Mix all ingredients to form a homogenous dough. Ferment for 1.5-2 hours at 30°C until the volume doubled.
Second dough: Mix first dough with the other ingredients for the third dough and ferment it for 1.5-3 hours at 30°C until the volume doubled.
Third dough:  In a stand mixer mix the third dough with flour, honey, spices, water salt and egg yolk and knead for 5 min at slow speed. And another 6 on fast speed until medium gluten development.
Now add 20g sugar and mix on slow speed for one minute.
Add another 20g sugar and continue mixing for one minute. Continue like this until all sugar is incorporated.
Continue mixing on medium speed until full gluten development (about 7-10 min). Now add the butter and knead until the butter is fully incooperated (about 2 min). Now add the raisins and the candid lemon and orange peel and knead shortly at slow speed.
Ferment for 2-4 hours at room temperature. The volume should triple in this time.
Now grease the counter and your hands very well with butter to prevent the dough to stick. Divide the dough into 2 equal parts and shape into balls. Place in the paper mold.
Proof for 8– 20 hours until it reach the top of the mold(Proofing time depends on room temperature and strength of the starter).
Prior to baking cut a cross in to panettone and place a pieces of butter (about 5g) in the middle of the cross.
Bake at 160°C for 40-45 min with steam.
Direct after baking insert two skewers per mold all way through the mold directly over the bottom of the mold, so that it sticks out from both sides for about 10 cm. Hang the panettone with this skewers upside down between two chairs or into big pots and let them cool hanging for at least 4 hours.