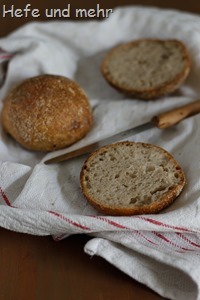 My cold is still persistent but we started to fight the bacteria with antibiotic while I still stay on the sofa. In the meanwhile we eat us through the bread stored in the freezer. That has its advantages: as soon as I'm fit I can bake up a little storm!
And I am not only working my way through the freezer but I am looking through the unpublished posts as well. And there are still some jewels hidden in the dark. Jewels like this Vesper-Wecken. Why I did not publish this recipe before I can not tell anymore. Maybe it got lost during the hectic days before summer vacations. But the rolls were delicious and so it would be sad to lose the recipe.
Their great flavour stems from the sweet starter as sole leavening agent. The key here is the cold overnight rest as it helps to create a deep complex aroma notes with only a minimal acidity. And this makes the rolls perfect for lunch or dinner!
Vesper-Wecken
Sweet Starter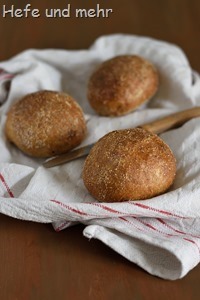 Dough
Sweet Starter
275g flour Type 550
75g whole wheat flour
5g psyllium hulls
11g Salt
10g Butter
375g water
Mix all ingredients for the Sweet starter and let it rise for 2-3 hours at 30°C until the volume doubled.
Mix all ingredients and knead for 12 min at slow speed and another 2 min at high speed. At this point, the gluten network should be very well developed..
Ferment for2 hours, folding every 30 min . Now place the dough in the fridge and ferment overnight at 4°C.
The next morning heat the oven with baking stone to 300°C
Sprinkle the surface with some flour and carefully transfer the dough on the countertop. Take care to keep as many air bubbles in the dough as possible. As now the other side is facing upwards, sprinkle these side of the dough with bran, too. With a dough scrapper divide the dough into pieces of about 95g. Carefully form them into round rolls and  place them on a bakers couche.
Proof for 1 hour.
Bake at 300°C for 10 min with steam, then reduce the heat to 230°C and bake for another 10 min.