I love to bake bread for Christmas. And nearly every Christmas I included one loaf with nuts, as nuts are an essential treat on Christmas for me. So, the 2018 Edition of Christmas Bread is made with walnuts, spelt and emmer. It has a crisp crust and soft and fluffy crumb, perfect to go along any Christmas delicious.
The preferments are inspired by a look in the fridge: a bit of left over Pâte Fermentée and a Sweet starter that needed a feeding. They add complex aroma notes to the dough which is nicely underlined by the flavour of buttermilk and nutty tone from the Spelt and Emmer.
And with this recipe, my dear reader, I start my christmas break here in the blog. For new years eve I will be back for the traditional "Best of 2018" post. I whish you merry and peaceful Christmas Days!
Christmas Bread 2018
ergibt 2 Brote
Pâte Fermentée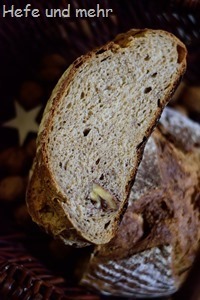 50g Spelt flour Type 630
35g Water
0,1g fresh yeast
100g Sweet Starter
100g Spelt flour Type 630
50g Water
Soaker
Teig
Pâte Fermentée
300g Whole Emmer Flour
485g Spelt flour Type 630
500g Buttermilk
50g Water
30g Butter
30g molasse
3g enzyme active Bean flour(optional)
5g Flohsameschale
20g Salt
10g fresh yeast
Mix all ingredients for the Pâte fermentée and proof it for 1 hour at room temperature. Then put the dough into the fridge for 12 –48 hours.
For the soaker, mix all ingredients and let it soak to hours at room temperature, then place it in the fridge.  Drain, if necessary, before using.
For the sweet starter, Mix all ingredients for the feeding and  ferment for 2-4 hours at 30°C.
Knead all ingredients for the dough 8-10 min at the slowest speed until medium gluten development.
Let rise overnight.
Divide the dough into two parts. Form to long breads and place in the proofing basket seam side up.
Proof for 1 hour, heat the baking stone at 250°C in the meantime.
Place the breads in the oven with steam. Turn the temperature back to 200°C after 10 min and bake the bread for another  45 min .