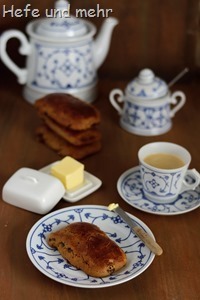 Is there still someone who is surprised about another traditional sweet bread recipe with rye? The longer I collect the regional recipes, the more sweet recipes with rye flour, raisins and sometimes spices I found. Personally I am only wondering about the fact that these kind of breads somehow did not appear in modern baking.
Todays rolls fit in perfectly in the row of Krintstuut, Onjeschwedde, Berchtesgardener Stuck, Kleenroggen and Westerwälder Neujährchen. The Kneppkuchen is a recipe somewhere between a lean cake and a very rich roll. It is made with rye (of course), raisins, anise seeds and cardamom. Originally the dough is prepared with lard, but for vegetarians and vegans it can be baked with coconut oil instead, too.
In my version, you can find a sourdough for a deeper flavour as well as the fact, that the high amount of fat is mixed to short crust dough before being added to to the dough. This little trick makes kneading in the fat much easier.
When serving you do not need anything but a bit of butter, as their flavour is so deep and rich!