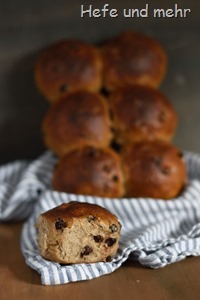 Like each year at this day in November I want to add a "can you believe this" when I write down the age of this blog. With now nine years the blog feels sometime like a mammoth in a modern time. And just like Micha I sometimes miss the gone days when the blog world was small and young and mainly add-free. I miss the times when every blog had its own blog roll. Past then I could spent hours surfing through the favourite blogs from other bloggers, finding new favourites while I travel through the sites. Nowadays my journeys are often interrupted as many blogs does not share their favourites anymore. Why I can't understand but I moan about the lost connections and interactions. And I'm more then happy when I find a blog that stands out from the mass and which has a blogroll of its own. Then I will add it to may blogroll, for which I still care a lot. I keep an eye on it so it contains only active blogs (inactive but good blogs can be found have their own special blogroll). You can the blogroll on the left side when you scroll down a bit.
But enough from nostalgia! Another thing that I care a lot for is my growing collection of traditional bread recipes. I like the stories and memories connected with this breads. And so I continue to collect what I can found. There are so many little gems just waiting to be discovered! If you know one – please share the description with me!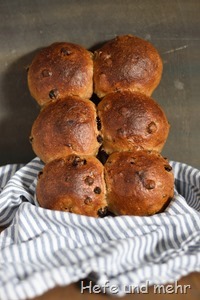 A good example for connected stories is the Bertesgadener Stuck. It is a bread which stems from the traditional bread sharing with poor ones at All Souls day which can be found in many regions of south germany. The local custom in Berchtsgarden of "Stuck Betteln" (asking for stuck rolls) was alive until the 1920s. Around this time this custom was banned. But the stuck recipe was kept alive as the bakeries started to sell the rolls from September till Santa Claus day.
An intersting point of the recipe is fact that the unsweetened dough is well seasoned with cinnamon, clove and sometimes other spices. I added a bit of bread spice (coriander, caraway, fennel) but only so much to create a deepness in flavour. The sweetness stems from the added Zante currants. And once again the bread contains some rye – I find it interesting how many traditional sweet breads in Germany exists which are partly made with rye flour!
Berchtesgadener Stuck
yields 2 Bars of 6 Rolls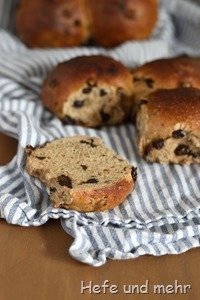 Rye-Poolish
100g rye flour Type 1150
200g Water
0,5g fresh yeast
Soaker
200g zante currants
boiling water
Dough
Rye-Poolish
400g flourType 550
100g Water
20g Butter
15g Malt (inactive)
2g Malt (active)
10g Salt
10g fresh yeast
5g grounded cinnamon
0,5g grounded clove
2g grounded Bread spice (coriander, Fennel, Caraway)
Mix all ingredients for the poolish and let it rise for 14-16 hours at room temperature.
Soak the currants in boiling water for 15 min, then drain very well.
Knead all ingredients for the dough for 5 min at slow speed and 10 min at fast speed. Now knead in the currants by hand. The dough should be now soft, but not sticky.
Let the dough 90 min.
Divide the dough into 90g portions and form them into round rolls. Place always six rolls next to each other in two columns.
Proof for 90 min.
Preheat the oven to 250°C.
Mist with water and bake with steam for about 25 min at 250°C.