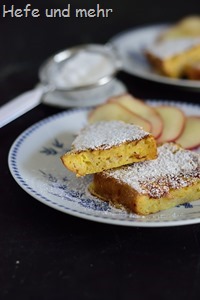 The last two weeks were busy ones.  My sister is moving and so I spent the beginning of the summer holidays with sorting stuff out, packing boxes, carrying furniture from the third level to the transporter and renovating. My own household tasks were left alone during that time. And so I spend my first "real" day off with cleaning the kitchen thoroughly.
Around lunch time I got hungry and when I spotted some left over braid from the weekend a plan formed in my brain.  I marked Gabis recipe for french toast already some time ago and now was the right time to test it. A peach, already a bit overripe, was sliced and served along.
And I was  very pleased with the "Arme Ritter" (literally "poor knight") as the dish is called in Germany. A perfect way to use left over bread
French Toast
4-6 slices leftover Braid (depends on the size of the slices)
alternative: 4 Toast– oder Sandwich bread – slices
2 Eggs
115g Milk
1 pinch of Vanilla paste
5g flour
1 Pinch Salt
Butter
For Serving
powdered sugar
fresh fruits like peaches or raspberries
Mix eggs with milk, vanilla flour and salt. Soak the bread for about 5 min, turning them two times. Heat the pan on middle heat. Melt the butter and fry the french toast 3 min on each side.