Some time ago a reader asked if my beloved three grain bread recipe could be modified so it would use boiled sourdough and could fit in a busy weeknight schedule. As changing from sourodugh to boiled sourdough meant replacing the soaker as well. This are quite some changes and I decided that were to many chances to give away a recipe variant without testing. Around the same time I got my hands on beautiful big mold glasses from Weck (1050ml) .  They have straight walls and are perfect for baking breads. When the bread is sliced, its slices are perfectly round.  I am totally in love with the new form.
And the bread itself is a delicious as the two other variants. And like always it is a good sign for a favourite bread when I bake a recipe in variants!
Three Grain Bread (Weeknight version)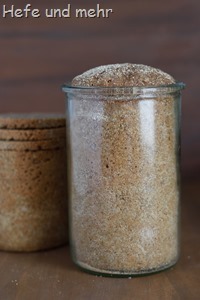 yields two breads of 600g
Sourdough
40g whole rye flour
40g Water
4g sourdough
boiled Sourdough
120g sun flower seeds
100g Sourdough
300g Water
Dough
boiled sourdough
110g rye flour
300g whole spelt flour
150g whole wheat flour
3g yeast
200 g Wasser
12g Salt
In the morning mix water, flour and starter for the sourdough and ferment for about 18 hours at 25°C.
For the boiled sourdough mix sourdough with water and sun flower seeds and bring to boiling while stirring. Let cool down before using. Boiled sourdough keeps well in the fridge for about 1 week!
In the evening knead all ingredients at slow speed for about 5 min, then at fast speed for about 8-10 min until full gluten development.
Let rise in the fridge for 16-24 hours.
Form the dough into two round loaves. Grease three weck glasses (Sturzglas 1050 ml)( or two pans 16 cm for 500g loaves) and sprinkle with oat bran. Place the loaves in the glasses and sprinkle with oat bran.
Proof for 90 – 120 min. The dough should reach the rim of glass.
Bake at 250°C with steam, turn the temperature to 200°C after 5 min and bake another 45 min by falling temperature.