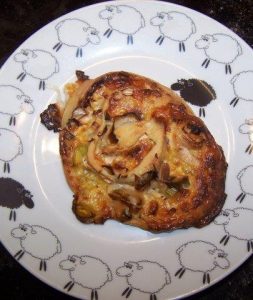 The last two days were very busy, so I came home so late, that I was to tired to cook. Yeasterday I stayed in lab untill 10 pm, and all I eat for dinner were some cookies, one Hanuta and some indian salty snacks. Not a balanced diet! 🙁
But today I left on time at 5 pm. Having a look in the fridge I saw that the leek really need to be used! But both of us did not like to the Idea of quiche, so I had a look at Chefkoch.de and found a recipe for leek-rolls. The dough is not so nice, using to much yeast and butter instead of olive oil, so I decided to use my favorite pizza dough. But the filling sounds very delicous, containing sour cream, cheese and leek.
Leek-rolls
Dough:
500g flour (Typ 550)
20g semolina
320g water
5g yeast
10g salt
50 g olive oil
Filling:
2 leeks
200g sour cream
200g grounded cheese
cress
salt
pepper
Knead all incredients for the dough 5 min at slow speed, then knead for another 6 min at high speed untill a medium gluten development.
Rest the dough for one hour.
Chop the leek into fine rings. Mix the sour cream with cheese and season with salt, pepper and cress.
Roll the dough to a square (thickness 1 cm), and spread with the sour cream-cheese-mixture and leek.
Roll up and cut into 5 cm thick discs.
Rest them to 30 min and bake at 200°C for 20 min.
Wer schöne Brote sehen will, sollte das wöchentliche Yeastspotting auf WildYeast besuchen.