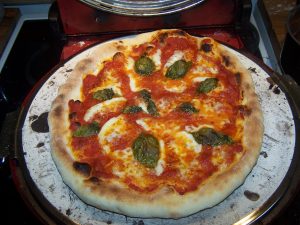 My pizza dough was fermenting in the kitchen, when I thought: lets check the theme for BBD#21! And then I could not belive my eyes: Zorra choosed for the second anniversary of Bread Baking Day the theme Pizza-Party ! Cool, I never had my post for BBD ready so early in the month! 😀
We have pizza ver regular since we have our small pizza oven Alfredo. He is a hot-blooded fellow and can heat up to 450°C (thats 842°F !) so he can compete with a real pizzeria oven. I found him while reading in a forum and fell in love with him immidiatly. Before we own the pizzaoven, I had to heat the bread baking stone for one hour before I could bake two pizzas! My ecological consience scold me every time because of the waste of energy. Alfrdo needs about 10 min to heat up and every Pizza needs just 4 min untill it is done. When I think about preparing dough in advance it is even possible to get a pizza when we came home lately from univeristy without order it somewhere.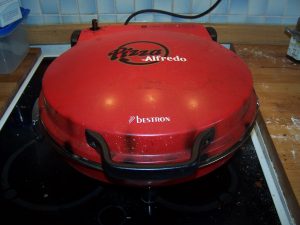 My normal pizza dough can be stored in the fridge up to seven days, it gains flavor with every day it is keeped there. But for today I liked to test another recipe I found in "Advanced Bread and Pastry": Pizza dough with poolish.
The dough needs a extremly small amount of yeast, something I like very much and ferment two hours with two strech and fold cycles. While in the beginning the dough is a little bit sticky after folding it for the first time you really feel how smooth he becomes while folding.
The dough is easy to form and we topped it simple but delicious with selfmade tomato sauce, mozzarella di buffolo and fresh basil.
After baking I was suprised about the crisp crust and the soft crump. A perfect pizzadough!
Because the dough is to much for 2 pizzas I store the rest in the fridge, either for baking another pizza later this week or for using it instead of pâte fermentée.
Pizzadough with Poolish

enough for 5 pizzas
Poolish:
0,5g fresh yeast
150g water
150g flour (Type 550)
Dough:
500g  flour (Type 550)
1g yeast
290g water
30g olive oil
10g salt
whole Poolish
Mix all ingredients for the poolish and ferment it for 12 hour at room temperature.
Add al ingredients for the dough to the poolish and knead the dough for 5 min. The dough is a little bit sticky now, but that is ok.
Now place the dough in a good oiled container and ferment for 2 hours. Give the dough two folds during this time.
Now divide the dough into 5 pices of 225g each and shape it to balls. Let rest for 20 min.
Now roll them out discs of 30 cm diameter and top it with everything you like on a pizza.
Bake 4 min at 450°C (or about 10 min at 250°C).
[tab:END]
Update: Das Round-up ist jetzt online! Es gibt 55 tolle Pizzen zu bestaunen!