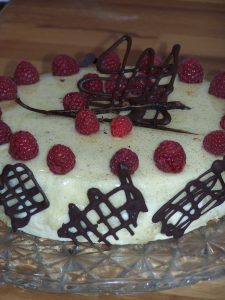 This week it was my Dads birthday, but while the birthday was in the week, so we meet at the weekend for coffee and cake. I promise to bring a cake and after thinking a little bit, I decided to make a Vanillacream-Torte. The making was easy and luckily I took a picture because the summerhot car was not a good for the torte. The chocolade dekor on the top melted and the sides became soft. 🙁 Arriving at my parents place I storm inside without greeting and place the torte in the fridge. This rescued the rest of the torte. Luckily the taste was not harmed 🙂 and I have a picture to proof that once the torte looks nice 😉
Vanillacream-Torte
For a Springform with 20 cm diameter:
Pâte Sablé
150g flour
125g butter
45g muscovado
1 pinch Fleur de Sel
Golden Chiffon
1 egg yolk
20g water
20g oil
20g sugar
40g flour
1/2 Tl Cream de Tatar
1 egg white
20g sugar
1 Tl vanilla sugar
some citron peel
Vanilla cream
200g heavy cream
200g milk
1 vanilla bean
10g Agartine
80g sugar
90g egg yolk (= 5 egg yolk)
300g heavy cream (whipped to soft peaks)
Glaze
60g water
30g sugar
3g Agar
1 vanilla bean
Deko
rapsberries
chocolade lattice
vanilla bean
For the pâte sabé: Cream butter with sugar, then combine with flour. Cool 1/2 hour in the fridge, then roll it into a circle with 20 cm diameter. Bake 15 min at 175°C. For the golden chiffon: Mix egg yolk, oil, water, sugar and spices untill well combined, the sift flour and cream de tatar on the batter and fold it into the batter.  Whip egg white with sugar untill it forms soft peaks, then fold it into the batter, too. Bake in a springform (Diameter 20 cm) and bake at 175°C for 20 min. Vanillacream: Open the vanilla bean and scrap out the pulp and ad both the pulp and the pod to 200g cream, milk and the Agar, boil the mixture for 5 min. Allow the mixture infuse with the vanilla pod for another 10 min, then remove the pod. Heat the mixture to 80°C. Mix the eggyolks with sugar and stir it the hot Milk-Cream-Mixture and keep stirring for another 2 min, then remove the pot from the heat. Let cool down to 35°C then fold the whipped cream into the cream.
Adjust the cake ring to 21 cm and place the disk of pâte sable in the middle. Pour the half of the cream on the disk and place the torte for 10 min the the freezer to secure the cream. Then place the golden chiffon on the top and pour the other half of the cream on it. Place in the fridge untill the cream is set. For the chocolate lattice pipe molten chocolate on a baking sheet and let it dry well before using. For the glaze: scrape out the pulp of a vanilla bean and add this to the water, sugar and agar. Cook for 2 min, let cool down to 35°C and pour it on top of the torte. Decorate with raspberries and chocolate lattice and store in fridge untill serving.