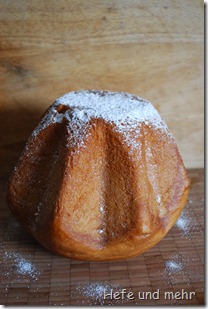 I tasted Pandoro three years ago when a colleague brought some after visiting her parents in Italy. I fell in love with this rich bread with the feather light crumb immediately. After some Internet search I found a Pandoro recipe from the Simili sisters on Chili und Ciabatta . Its a great recipe I made many times since this day. It is a time consuming recipe but the result is worth every second you spend in kitchen.
And the I saw a sourdough pandoro on Wild Yeast and I knew that this is the bread I have to bake for Christmas.
This pandoro is made with a sweet starter, a sourdough that is feed more frequently for two days to enhance yeast growth. My lovely boyfriend had to do babysitting my sourdough and feed it every four hours while I was working. He did a great job and the starter was vigorous rising after every feeding. On the 23. December I did the dough and the bread rose overnight. My pandoro need about 18 hours to reach the top of the pan and I let it rise the last 4 hours on 30°C!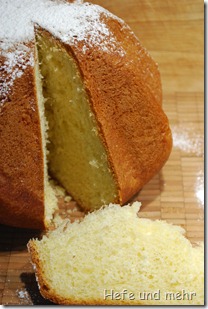 Because I own just one pandoro pan (or more correctly because my mom owns only one 😉 ) I used the remaining dough to fill my muffin pan with mini pandoros.
This Mini-Pandoros we had on 24.December for breakfast, what a delicious treat for breakfast!
Because the dough contains a high amount of sugar and butter, you should keep some details in mind:
Sugar and butter inhibit gluten development. Thats the reason why he sugar is added gradually and the butter is added at the end.
If you can get Osmotolerant yeast its recommended to use it. Its a special yeast strain that can cope the osmotic stress which is due to the high sugar cocentration better as normal yeast. I never saw it in Germany so I use normal fresh yeast in a slightly higher amount.
Pandoro
yield 1 Pandoro a 650g and about 8 small one a 50g
First dough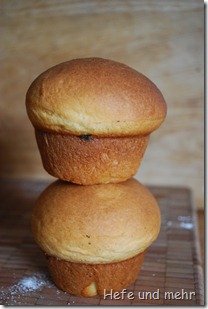 66 g flour Type 550
33 g water
27 g egg
17 g sugar
96 g sweet starter, 4 hours after last feedings
Second dough
40 g flour Type 550
2,5  g fresh yeast
27 g egg
8 g butter
Third dough
60 g flour Type 550
26 g egg
12 g sugar
3 g soft butter
all of the first dough
all of the second dough
Final Dough
166 g butter (roomtempeature)
seeds scraped from 1/2 vanilla bean
220 g flour Type 550
5 g salt
all of the third dough
166 g egg
110 g sugar
First dough: Mix all ingredients to form a homogenous dough. Ferment for 2 hours at 30°C.
Second dough: 30 min after mixing the first dough, mix the all ingredients for the second dough and ferment the second dough 1,5 hours at 30°C.
Third dough: Mix first and second dough with the other ingredients for the third dough and ferment it for 3 hours at 30°C.
Final dough: Cream butter with vanilla seeds and set aside. In a stand mixer mix the third dough with flour, salt and 86g egg and knead for 5 min at slow speed. The dough is very stiff at this time.
Now add 30g sugar and mix on slow speed until it is incorporated into the dough, then knead another 4 min on medium speed.
Add 20g egg and mix in medium speed until it is completely incorporated into the dough and a minute longer.
Add 20g sugar and continue mixing until its completely incorporated and a minute longer.
Add now egg and sugar like before until all sugar and egg is incorporated.
Continue mixing on medium speed until full gluten development (about 10 min).
Now turn the mixer to slow speed then add the butter all at one and knead until full incorporated.
Ferment for 2 hours, fold the dough one time in between.
Grease the pandoro pan and the muffin pan.
Divide the dough it into a pieces of 650 g and the remaining dough into pieces of 50g . Shape the dough into tight balls. Place the balls, seam side down, in the pans and proof for 14-18 hours until it reach the top of the pan.
Bake at 175°C for 35 min with steam
Die ist mein Beitrag für Susans wöchentliches Yeastspotting.