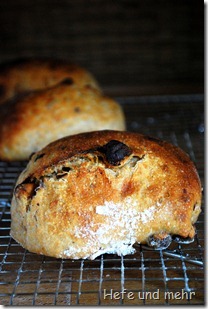 The Yoghurt Whole Wheat Toast, a Variation of my Whole Wheat Sandwich-Bread that Lutz baked make me longing of a Yoghurtbread or Roll. Yoghurt in bread is something delicious. As a Breakfast roll we like the yoghurt sesame rolls very much. But always the same kind of rolls is boring and so I decided to bake some similar rolls but this time with whole spelt flour, some honey and caramelised hazelnuts – that is a delicious mixture.
When you prepare the caramelized hazelnuts I can recommend to make more then the recipe asked for. Then you can snack some and put some in the dough. I had to struggle with myself not to eat all of the nuts at once – they are so good! I roasted the nuts in the oven instead of roasting in a pan to get  more even roasted nuts.
The rolls are as delicious as I hoped for, slightly tartish from the yoghurt with a distinct sweetness from the honey and the nuts.
Yoghurt Rolls with caramelized Hazelnuts
Caramelized  Hazelnuts:
100g Hazelnuts
35g sugar
10g water
Dough:
410g Yoghurt
200g Flour Type 550
200g Spelt, freshly milled
3g fresh yeast
30g Honey
10g Salt
Caramelized  Hazelnuts
Roast the hazelnuts in the oven at 150 °C for 35 min. Rub away the loose skin with a towel. Cook sugar and water in a pan until the sugar is dissolved. Stir in the nuts and continue stirring. First the hazelnuts will be coated with with a sandy sugar coat which will melt and starts to caramelize. When the caramel has a nice golden hue, remove the nuts from the pan and let cool on a plate.
At the evening dissolve yeast in yoghurt and mix with the other ingredients until homogenous. Ferment at room temperature.
The next Morning: Heat the Baking stone to 250°C. In the meantime flat the dough on a well floured square with a length of 40 cm. Fold from left and right to the middle, then from top and bottom so that the resulting square has a length of 20 cm.
Use a dough scrapper to cut 9 square rolls. Proof for 40 min.
Bake at 250°C for 18 min on a preheated bread baking stone with steam.