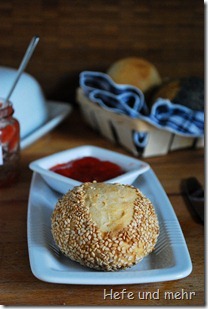 I like Martins simple "overnight dough" Method very much. In the last month I modified it a little bit so it fits more to my taste. I added a poolish to add more aroma to the bread and folded the dough three times to improve the crumb structure. I used this modified version first time for the simple wheat bread and my mum varied this recipe in the last month – baking it with different flours and seeds – and she was always pleased with the success.
For the rolls I stayed with Martins simple Overnight recipe for a long time, but now I wanted to test my poolish variant with the rolls, too.
I planed to bake buttermilks rolls, because buttermilk makes rolls delightful fluffy. But there was nothing but a tiny little bit of buttermilk sitting in the fridge, so I had to fill it up to the amount of liquid needed using some whey.
The resulting rolls are delicious, with a very thin crust and a soft crumb. This is a recipe I will bake again.
Breakfast rolls
yield 9 rolls
Poolish
175g flour Type 550
175g water
1g fresh yeast
Dough
Poolish
325g flour Type 550
100g whey
75g buttermilk
35g Butter
10g salt
3g fresh yeast
Topping
Morning: Mix water, flour and yeast for the poolish and ferment it  for 12 to 16 hours at room temperature.
Evening: Dissolve the yeast into the water and add the mixture to the other ingredients in a big bowl (about 5l). Mix all ingredients for the dough and let it rest for 30 min, then fold it from the outside of bowl into the middle for three or four times. Let rest for 30 min again, then fold the dough and repeat the resting and folding steps one time more. Ferment the dough overnight (8 – 10 hours) at room temperature.
The next morning: Heat the oven with the baking stone to 250°C. Divide the dough into pieces of about 85g each. Shape into rolls. Wet their surface and roll them into sesame or poppy seeds. If you like leave some of them plain.
Proof for 40 min.
Slash them lengthwise and bake at 250°C for 15 min with steam. Open the oven door after 10 min to release the steam to get a crispy crust.