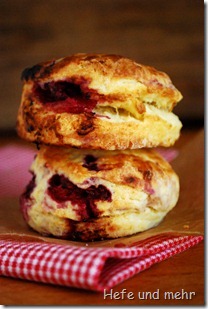 We were invited to a Brunch on Saturday. And because I don't like to go to an invitation without offering to contribute something to eat I asked the hostess if she need something. She told me that something sweet would be nice and so I decided to bake Raspberry Scones.
I saw a recipe for blueberry scones at Seelenwerk and the pictures Mila take were so mouthwatering. The recipe is from" Baking with Leila" from Leila Lindholm and this is a cookbook I own, too! It never tempted me so much but when I read the recipe in the book. Its good that we have blogs, too!
The original recipe asked for grated lemon peel and blueberries but I was in the mood for raspberries and so I decided to replace the blueberries with frozen raspberries and lemon peel with orange peel.
The dough is easy to prepare and the scones are fast to prepare and fast to bake.
It was the first time I bake scones and I am very pleased with the result. A recipe I will bake again for sure!
Raspberry Scones
yields 18 Scones
Dough
510g flour Type 405
40g sugar
grated orange peel
8g baking powder
3g Salt
125g Butter
200g Milk
1 egg
150g frozen raspberries
Glazing
1 Tablespoon Milk
1 Teaspoon sugar
Mix flour, sugar, salt, orange peel and baking powder and rub the butter in the mixture. Add milk and egg and knead to form a dough. Then mix in the frozen raspberries.
Flatten the dough to a 3 cm thick plate and cut round scones with a diameter of 6 cm.
Bake at 250°C for 12 min.