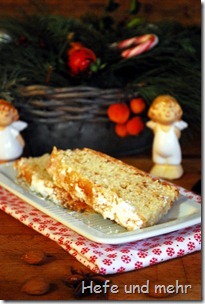 The last Bread Baking  Day of the year 2012 has the theme "X-mas Edition" and is hosted at Cindystar. I get the idea for a bread fitting to this theme some days ago, when I was on my way back home from work. It was already very late, I had lunch about 7 hours ago and I was hungry. So I stopped at the bakery in railway station and bought a bun called "Little cinnamon almond cloud". That sounds good, doesn't it? But when I take the first bite I was disappointed. The bun was not stuffed with crunchy almond pieces but with very sweet marzipan in a very sweet dough overpowering completely the faint cinnamon taste. Not what I expected when I read the beautiful name!
When I was sitting in the train I started to think about how I would do such a kind of bread. And so I used the time to develop a recipe for a sweet bread seasoned with cardamom, Cassia buds and allspice and enriched crunchy almond pieces. Its a rich bread with a lot of egg and butter and its perfect for breakfast on Christmas mornings. I achieved a cloud like look with dusting the bread thickly with powdered sugar baking.
This bread with its delicate spices and almonds resembles much more my idea of an almond cloud
Christmassy almond cloud
sugar coated almond pieces
100g chopped almonds
35g sugar
15g Water
200g flour Type 550
200g Water
1g fresh yeast
Dough
Poolish
450g flour Type 550
125g Milk
1 vanilla beam
1/2 Tl grinded Cassia buds or cinnamon
1 Pinch cardamom
1 Pinch all spice
55g Egg (1Egg size L)
5g Salt
10g fresh yeast
40g sugar
125g Butter,
almond pieces
Topping
1 Egg white
powdered sugar
For the sugar coated almond pieces: Cook sugar and water in a pan until the sugar is dissolved. Stir in the chopped almonds and continue stirring. First the almonds will be coated with with a sandy sugar coat which will melt and starts to caramelize. When the caramel has a nice golden hue, remove the nuts from the pan and let cool on a plate.
Mix water, flour and yeast for the poolish and ferment it  for 12 to 16 hours at room temperature.
At the next morning add Milk, pulp of a vanilla bean, the spices, salt, egg  and flour to the preferment and knead on slow speed for 8 min.  The dough has a very firm consistence. Now add the sugar in small portions and knead until the sugar is completely incooperated before adding the next one. After all sugar is added to the dough, add the butter all in once and knead until a soft, silky dough is formed. Now add the almonds and knead for another minute.
Let rise for 2.5 hours.
Shape the dough into a round loaf and proof for 1 hour.
Glaze with egg white and dust thickly with podered sugar
Bake at 200°C for 35 min.