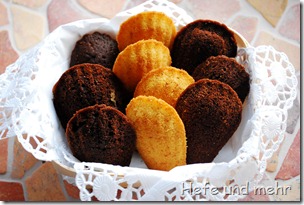 I baked some Madeleines for the christening of my little niece. I posted the recipe for the normal Maeleines some time ago, but at this time of the year I had the feeling that only one sort of Madeleines would be to boring. And so I seasoned the Madeleines with some cacao and gingerbread spice.
And so I had a delicious Christmas-Madeleines.
Christmas-Madeleines
yields 30 Madeleines
75g sugar
75g honey
160g egg(3 big eggs)
135g flour type 405
15g cacao
1 tsp. gingerbread spice
2 tsp. vanilla extract
1 Pinch salt
5g baking powder
150g molten butter (or Margarine if you bake lactose free)
Mix sugar, honey with eggs, spices, vanilla extract and salt. Fold in baking powder and flour. Now add the molten butter and mix until homogenous.
Grease the madeleine pan and place about one table spoon dough in each shell formed cup.
Bake at 200°C for about 10 min.