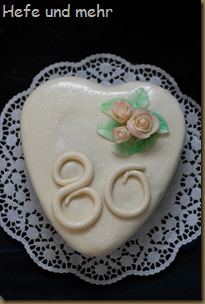 To bake a heart shaped cake for birthday (also called "Birthday-Heart") is an old family tradition. Which cake is baked on the other hand is highly variable. We already baked Cheesecake-Hearts, Goldknödel-Hearts and or the good old Pound-Cake hearts filled with a layer of jam.
For the 80. Birthday of my Grandmother I volunteered to bake a festively decorated cake and the heart shape was mandatory for me! But what cake should I choose?
At the end I decided to use the Praline-Quark-Cake from Petra. Jutta chose this cake as base of her sons wedding cake and she praised the cake so much that it was clear to me that it would be the perfect cake.
To fill the heart springform completely I multiplied the recipe by 1.5, but reduced the amount of sugar a little bit.
And now I can only repeat what Petra and Jutta already told us: It is a great cake, moist and nutty but at the same time very stable, perfect for fondant covered cakes!
This is for you, dearest Oma. Happy Birthday!
Praline-Quark-Cake
For a heart shaped springform (26 cm long)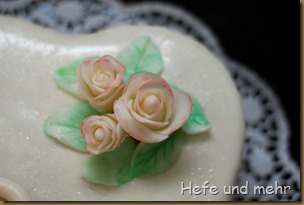 Dough
7 eggs (sizeL)
300g sugar
300g praline
250g Butter
375g Quark
450g hazelnuts, grounded
300g flour type 405
1 Packet Baking Powder (17g)
1 Pinch Salt
Decoration
Whip eggs with sugar until the sugar dissolved and the mixture is frothy white. In the meantime melt praline and butter on low heat. Stir the molten mixture with the eggs and add the quark, too.  Now add the grounded nuts, flour, baking powder and salt.
Fill in a well greased springform and bake ant 160°C for 85 min (use a cake tester to be sure it is done). Let cool over night.
Melt white Chocolate and cream for a ganache and let cool down again over night, too.
The next morning  spread the cake with ganache and cover it with fondant. Decorate as desired.