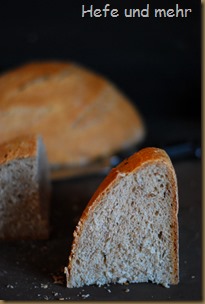 Ground Coriander seeds have a long tradition as bread spice. When I roasted some coriander seeds for an indian dish some weeks a go I suddenly had the idea of a bread with whole, roasted coriander seeds in my mind. A bread similar to a caraway seed bread.
Thought and done… The next week I roasted some seeds and put them in a bread dough. I let the dough rise over night at room temperature and the next morning I formed a (big) loaf and baked it.
During baking a aromatic fragrance filled our flat and so it was hard to wait until the bread cooled down before tasting. But the flavour is worth wating! When my teeth hit a seed I can taste the slight peppery flavour of coriander seeds. And like a caraway seed bread goes very well with hearty spreads or cheese. But it is also a perfect side for a soup like the fennel celery soup we had last week.
Coriander bread
yields 1 Bread
Pâte Fermentée
130g flour Type 550
90g Water
1g fresh yeast
2g Salt
Dough
350g wheat, freshly milled
520g flour Type 550
550g Water
10g coriander seeds
18g Salt
2g fresh yeast
Mix all ingredients for the Pâte fermentée and proof it for 1 hour at room temperature. Then put the dough into the fridge for 12 hours.
Roast the coriander seeds in pan until they are golden brown.
For the dough knead all ingredients 5 min at the slowest speed and 8 min at higher speed until medium gluten development.
Let the dough rise over night at room temperature (10-12 hours).
The next morning: Shape the dough into two oval loaves and proof for 1 hour in well floured breadforms.
Slash the loaves directly before baking.
Bake for 35 min at 250°C with steam on a hot stone.
I sent this entry to Yeastspotting, Susans weekly showcase of yeast baked good.