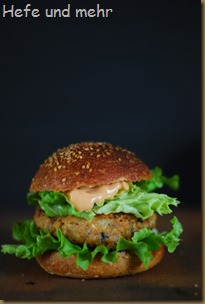 I love homemade (vegetarian) Burger. And when really everything – from burger patty to the bun – is made by myself, it did not longer deserve the term "fast food".
To push this dish to the healthy side, I bake the buns this time with 50% whole grain flour. The whole grain flour is a mixture of self milled spelt, wheat and buckwheat. This is not only healthy but it adds a deep nutty flavour to the buns as well. The only problem when baking with whole grain flour is that they tend to get dense and dry. To prevent this I made a hot soaker with some of whole grain flour and used the rest for autolysis so the bran could absorb as much water as possible.Adding some sourdough starter from the fridge as well as some malt helps to create round flavour.
The buns were great, with a soft and tender crumb, and together with some lentil cauliflower patties and a lot of lettuce and tomatoes they were a delicious dinner. And the leftover buns tasted good as breakfast roll with some honey or marmalade, too!