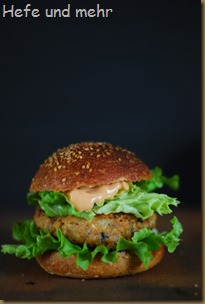 I love homemade (vegetarian) Burger. And when really everything – from burger patty to the bun – is made by myself, it did not longer deserve the term "fast food".
To push this dish to the healthy side, I bake the buns this time with 50% whole grain flour. The whole grain flour is a mixture of self milled spelt, wheat and buckwheat. This is not only healthy but it adds a deep nutty flavour to the buns as well. The only problem when baking with whole grain flour is that they tend to get dense and dry. To prevent this I made a hot soaker with some of whole grain flour and used the rest for autolysis so the bran could absorb as much water as possible.Adding some sourdough starter from the fridge as well as some malt helps to create round flavour.
The buns were great, with a soft and tender crumb, and together with some lentil cauliflower patties and a lot of lettuce and tomatoes they were a delicious dinner. And the leftover buns tasted good as breakfast roll with some honey or marmalade, too!
Three Grain Burger Buns
yields about 12 Buns
Flour mix
100g spelt
100g wheat
50g buckwheat
Hot soaker
150g boiling water
50g Flour mix
Autolysis dough
200g Flour mix
140g Water
Dough
Hot soaker
Autolysis dough
225g flour Type 550
50g sourdough starter from the fridge
70g Oil
20g Malt extract
20g sugar
10g fresh yeast
10g Salt
Topping
Mill the grains for the flour mix. If you do not have a mill, use store bought whole grain flour (spelt, wheat, buckwheat) in the same proportion!
For the soaker stir the flour mix in the boiling water. Let it sit for 1 hour, until it reaches room temperature.
For the autolysis dough mix the flour mix with water until homogenous. Let it sit for 1 hour.
Knead all ingredients for the dough for 5 min at slowest speed, then around 10 min on fast speed until complete gluten development.
Ferment for 1 hours.
Divide into 80g pieces and form to round buns. Wet their surface and sprinkle with sesame.
Cover and proof for 1.5 hour.
In the meantime heat the baking stone to 250°C.
Bake at 250°C for 20 min with steam.
I sent this entry to Yeastspotting, Susans weekly showcase of yeast baked good.