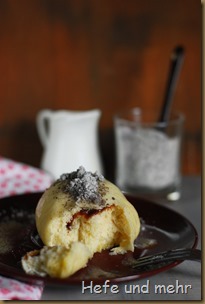 I'm keep my little sweet starter which I created for baking pandoro in the fridge for nearly a month now. I feed him once a week with one part flour and half a part water and let him rise at 30°C for 3-4 hours, until its volume doubles. This keeps the starter very active, but slowly the acidity is coming back. And so I decided today to refresh him by feeding him three times every three hours (similar as described here), which removes the tangy taste.
But that left me with some very active sweet starter which I didn't want to throw away. And so I mixed it with some flour, milk, eggyolk, butter and sugar to bake "Germknödel" . I needed some patient, because the dough took its time to rise, so I would advice to use 5g fresh yeast to speed up the process if you are a little bit in hurry! I steamed most of them, but cooked some in water as well. Both worked fine, but like always I prefer the steamed version!
The Germknödel have very good flavour with some complex notes due to the starter but without any acidic tones! A delicious dessert or (that what we do) great treat on a lazy saturday afternoon!
Germknödel with sweet Starter
yields 8 small Germknödel
Sweet Starter
Teig
Sweet Starter
100g flour Type 550
30g Milk
20g Egg yolk (from 1 Egg size M)
30g sugar
20g Butter
5g Salt
Seeds of 1/2 Vanilla bean
Filling
Topping
melted Butter
Poppy seed sugar (crushed poppy seeds with powdered sugar)
Mix all ingredients for the Sweet starter and let it rise for 3 hours at 30°C.
Now knead all ingredienst for the dough with the hands for about 10 min.
Let the dough rise for 1.5 hours.
Divide into 50g pieces and flatten them into discs. Add 3/4 teaspoon of plum sauce on the disk and pinch the sides together to seal the plum sauce in the germknödel.
Let the Germknödel proof for about 2.5 hours at 30°C until doubled in size.
Steam them in a steamer for about 25 min or cook them in simmering water for the same amount of time.
Serve the germknödel with melted butter and Poppy seed sugar.