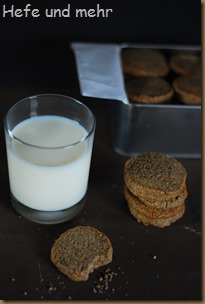 Sometimes I need a little bit of sweet in the afternoon to refill my energy reserve. Especially on long workdays I have the longing for a cookie to accompany my cup of coffee  to overcome my afternoon slump. And I like it most when the little treat in my lunchbox is then a homemade sweet, preferable made with whole grain.
This week I bake cookies with whole spelt flour and grounded poppy seeds, an idea I had in my mind since I baked the Mohnkipferln. Using whole cane sugar adds a delicious caramel note to the cookies while pinch of salt make the taste nicely round. A great cookie for a little break!
Spelt Poppy Seed Cookies
Dough
300g Spelt, freshly milled
100g whole cane sugar
80g poppy seeds
150g Butter
1 Egg
1 Pinch Salt
Ground Poppy seeds with sugar (for example with a coffee mill), mix with flour and salt and knead with butter to a crumby dough. Add the egg and knead untill homogenous. Now form the dough to a roll and chill for at least 2 hours. Now cut the dough into slices of 5 mm and place them on a paper lined baking tray.
Bake for 15 min at 200°C.