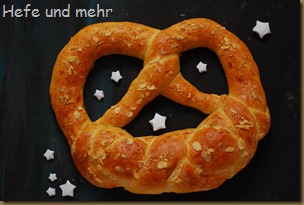 I hope, you all had a good start into the new year!
We spent our new year's eve very quite with hot tea instead of sparkling wine because I had to fetch a bad cold – but that's a kind of unforgettable new year's eve, too 😉
But (and that should proof once again that I'm crazy) I decided to ignore the fever for a while because I can not start a new year without a homebaked new year's pretzel! And so I take out a leftover sweet starter I kept in the fridge for 5 days. The Starter didn't mind the time spend in the cold and tripled in size after feeding in only three hours! I then mixed the dough and trusted the sweet starter once again to be enough for a proper rise. The longer time it need to for rising and proofing was perfect for me so I could sleep in between 😉 If you want to speed up the recipe, at a little bit of yeast. Or make half of the recipe of the swiss butter braid instead, which yields a great bread, too.
The pretzel is very delicous, with a soft crust and a fluffy crumb, just the prefect way to welcome 2014!
New years pretzel 2014
Sweet Starter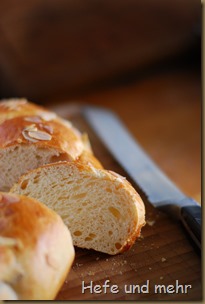 Dough
Sweet Starter
350g flour Type 550
235g Milk
10g Salt
50g sugar
120g Butter
(optional 5g fresh yeast, but then reduce the frist rise and proofing time to 1 hour each)
Glazing
Mix all ingredients for the sweet starter and proof it for 3 hour (or until it doubled in volume) at 30°C.
Knead all ingredients except the butter for 5 min at slow speed.
The knead 7 min at slow speed. At last add the butter all at once and knead until the butter is completly incooperated.
Proof for three hours.
Divide the dough into two parts of 175g each and one of about 730g. Roll the two smaller portions into strands of 35cm each and the big into a strand of 120cm.  Place the big one on paper lined baking trays. In the middle part of the strand braid it together with the two shorter strands. Now form a pretzel.
Proof for about 3 hours.
After proofing brush with beatn egg. Bake at 175°C for about 35 min with steam.
I sent this entry to Yeastspotting, Susans weekly showcase of yeast baked good.