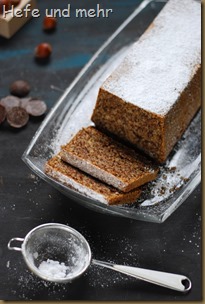 Some recipes are just what they seemed to be. Like the "simple and delicious nut cake" recipe which I found on Alex' Blog Foto e Fornelli. The picture was very tempting and I made a mental note to try the recipe as soon as possible. And when my mum called to ask if we want to meet spontaneously at the weekend, I had THE excuse to bake the cake.
It was a good idea to make this cake because everyone liked it very: moist, nutty and chocolaty is a mixture that never fails! A new favourite cake of our family!
Nut cake
4 Eggs Size M
125g sugar
Seeds of 1/2 vanilla bean
1 Pinch Salt
5g Baking Powder
75g föour Type 405
200g grounded hazelnuts
100g grounded Semisweet chocolate
Whipe Eggs with sugar, seeds of the vanilla bean and salt until the sugar dissolved and the mixture is frothy and light yellow. Mix flour, baking powder, nuts and chocolate and fold it under.
Fill in a greased Baking tin and bake for 50 min at 180°C