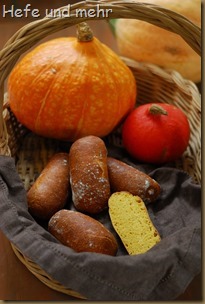 It's again this time of the year: Zorra asks all of us to bake a bread for world bread day. Since I have a blog of my own I follow her call and post a delicious recipe on 16. of october, This year I found inspiration for the recipe in the big, plumb pumpkins we harvested in the garden of the parents from my love.
When I use homemade pumpkin puree the water content always vary and this make it difficult to repeat the recipe. And so I took my old but beloved juice centrifuge  and juiced 600g pumpkin. I got nearly 340g juice. I used it to make a poolish in the morning and kneaded a dough with more juice and the poolish in the evening. I formed the rolls before I went to bed and let the rolls proof in the fridge. At the next morning I only had to bake the rolls.
The rolls got a dark golden crust and a soft yellow crumb. They have a strong, delicious pumpkin flavour – as good as rolls with pumpkin puree – and the preferment and the long, cold proof for a complex flavour. And the the remaining pumpkin marc from juicing can be cooked in a pumpkin soup. And to the pumpkin soup you can of course serve this rolls…
Pumpkin rolls
yields 9 rolls
Poolish
150g flour Type 550
150g pumpkin juice
1g fresh yeast
Dough
Poolish
175g pumpkin juice
350g flour Type 550
15g Butter
10g Malt
4g fresh yeast
10g Salt
In the morning: Mix all ingredients for the Poolish and ferment for 10-12 hours on a warm place (about 25°C).
In the evening: Dissolve the yeast in the juice, mix with the other ingredients and knead 5 min at slowest speed, then around 11 min on fast speed until complete gluten development. Now butter and knead for about 2 min until complete incooperated.
Ferment for one hour.
Now divide the dough into pieces of about 90g each. Roll each piece into a 20 cm length band and roll them into a log.
Proof the roll seam side down on a couche  overnight (10-12 hours) in the fridge.
The next morning: Heat the oven to 250°C
Before baking turn them upside down and bake at 250°C for 20 min with steam.