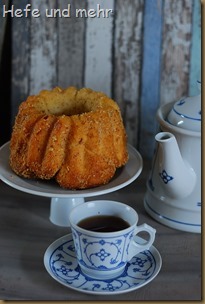 I love the fact that my sweet Starter enables me to bake more or less spontaneously with a delicious preferment. And when my parents asked us this morning if we want to meet in the afternoon for a cup of coffee I decided to bake a family classic: Goldknödel (Golden Dumplings).
The recipe stems from the transsylvanian branch of the family and we all love it. My variant here contains less yeast, a preferment and cream instead of butter. This makes the crumb fluffy and enables me to proof the cake overnight if I want to. But today I choose the fast variant and proofed the cake at room temperature.
The cake is served uncut, and everyone can break a piece from it.
Goldknödel with sweet Starter
80g flour Type 550
80g sweet Starter
40g Water
Dough
Sweet Starter
370g flour Type 550
125g Milk
125g cream
55g Egg (1 Egg size M)
65g sugar
5g salt
6g fresh yeast
Coating
80g  almond, hazelnut or walnut, grounded
50g sugar
75g Butter, melted
Mix the ingredients of the sweet starter and let it rise for 2-4 hours at 30°C until the volume doubles.
Knead all ingredients except sugar and butter for 5 min at slow speed. Then knead 7 min at fast speed. Now add the sugar in small increments and knead until the sugar is incooperated before adding the next sugar. Knead to full gluten development.
Ferment for one hour.
Mix grounded nuts with sugar and grease the kugelhopf pan. Then divide the dough into pieces of 40g and form them to small balls. Turn them first in the molten butter, then in the nut and sugar mixture. Lay them in the kugelhopf pan.
Proof for 1.5 hours.
Bake at 175°C for one hour with steam.
Tip: If you want a Goldknödel-Recipe without Preferment, take a look here.