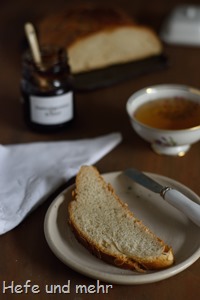 I get the question for a sweet yeast dough without egg, milk or wheat regularly.  Depending on the dietary restrictions I sent the readers to this, this or that recipe. A dough "without everything" was missing until now. And so I promised to fill this gap.
The recipe I designed is a aromatic vegan spelt dough. Similar to my favourite braid I used here a mixture of firm and liquid fat: vegan margarine and oil. And while in a butter braid the butter flavour is very prominent, in this recipe a oil made of roasted walnuts takes over this role.
The dough recipe is a basic recipe which can be used in many different recipes. I used it to bake this braid, vegan spelt Hörnchen and nut pastry. The other recipes will follow in the next weeks.
Vegan Spelt Braid (One for All)
yields 2 braids
Pâte Fermentée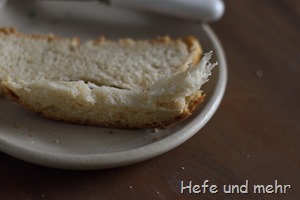 250g spelt flour Type 630
175g Water
2g Salt
3g fresh yeast
Water Roux
150g Water
30g spelt flour Type 630
Teig
Pâte Fermentée
Water Roux
720g spelt flour Type 630
60g Nut oil (roasted hazelnut or walnut)
200g Water
100g sugar
120g (vegan) Margarine
15g fresh yeast
6g Salt
optional: seeds of  1/2 Vanilla bean or grated orange peel
Shiny glaze
2g starch (optional roasted)
100g Water
Mix all ingredients for the Pâte fermentée and proof it for 1 hour at room temperature. Then put the dough into the fridge for 12 hours.
For the water roux mix flour and water and bring to boil while stirring. Cover with Clingfilm and let it cool down to room temperature.
Knead all ingredients except sugar and margarine for 8 min at slow speed.  Now add the sugar in two increments and knead 1 min after add each portion of sugar. At last add the margarine all at once. Knead to full gluten development.
Let rise overnight in the fridge or  for one hour room temperature plus 1-2 hours in the fridge.
Divide the dough and roll it into 12 strands (each about 30 cm). Take always six and braid them.
Proof for 90 min.
In the meantime prepare the shiny glaze: Bring starch and water to boil while stirring constantly. Remove from the heat and let cool down to room temperature.
After proofing brush again with they shiny glaze. Bake at 180°C for about 40 min with steam. Brush again with shiny glaze.