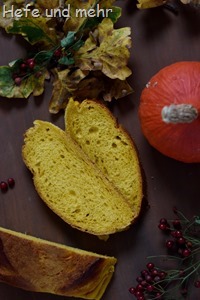 In this year Indian summer lasted long. But now the days are getting shorter and air is chilly when I leave the house in the morning. And when I drive through the range of the hills I can see the first sun rays turning the misty valleys below into golden lakes. It is autumn, finally.
And so a recipe, which I got from a reader some weeks ago, fits into this beginning autumn very well. It is a recipe for pumpkin "Stuten". Literally the term "Stuten" means "Mare" and my reader was very puzzled about it when she moved to Oldenburg many years ago and the bakeries were advertising "It is Pumpkin-Stuten time again". But in Westphalia, Lower Saxony and Schleswig-Holstein the term means "sweet bread" as well as "horse". And this pumpkin bread was a steady companion for my reader in the following years.
And when I asked for local recipes she sent a recipe from her kids kindergarten. I modified it strongly (ok, I tore it down and rebuild it from the fragments), so it contains now much less yeast but a preferment and some more liquid, too. And I kneaded the dough much longer as well. All of this together makes the bread irresistibly soft and aromatic. A great bread for autumn!
Kürbisstuten
yields 3 Breads
Biga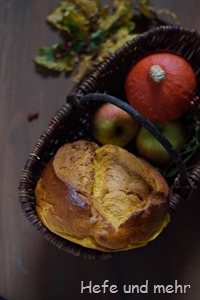 200g flour Type 550
100g Water
1g fresh yeast
Teig
Biga
450g pumpkin (Hokkaido), baked and pureed
100g egg
700g flour Type 550
10g Salt
15g yeast
120g sugar
150g Butter
Mix the ingredients of the bigaand let it rise for 16-24 hours in the fridge.
Knead all ingredients except sugar and butter for 5 min at slow speed. Then knead 7 min at fast speed. Now add the sugar in small increments and knead until the sugar is incooperated before adding the next sugar. At last add the butter all at once. Knead to full gluten development.
Let rise overnight in the fridge or  for one hour temperature plus 1-2 hours in the fridge.
Divide the dough into there equal parts and form them to oval loaves.
Proof for 90 min.
After proofing brush with egg and slash lengthwise. Bake at 180°C for about 40 min with steam.
This is my submission for this years WBD