In the cologne pubs (called "Brauhaus") exists a dish with confuse tourists regulary. It is called "Halve Hahn" and the tourists translate this with "half rooster" and expect to get a half roasted chicken when they order it. What they get is one half of twin-roll together with old gouda cheeses, mustard and some onions. There are many theories to explain the name of the dish – one is that once upon time someone asked in the cologne dialect if he could get on half of the roll: "Ääver isch will doch bloß ne halve han" (But I want just one half).
The roll that comes with the dish is called "Röggelchen" (little rye) and is baked as twin roll. You can tell in which city the roll was baked by the way it was formed: The Röggelchen from Düsseldorf has a round shape while the Cologne one's shape is long. Both in common is that they are made partly with rye. In this variant the rye is used to make a sourdough, which adds complex flavour notes to the rolls. Another typical characteristic is the dark, shining crust which is due to a glazing which is made with roasted starch and applied before and after baking.
Röggelchen
yields 9 twin rolls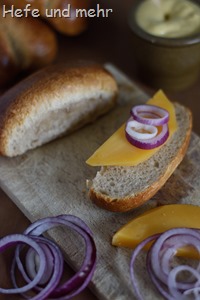 Sourdough
110g whole rye flour
110g Water
11g sourdough
Dough
440g flour Type 550
220g Water
15g egg yolk (from 1 egg size M)
10g yeast
20g Butter
11g Salt
3g active Malt (optional)
Glazing
Mix all ingredients for the sourdough and let it rise for 14-16 hours at 25°C.
Knead all ingredients for the dough for 5 min at slow speed, then 10 min at fast speed. The dough should be now soft, but not sticky.
Let the dough rise for 1 hour at room temperature.
Divide the dough into 50g portions. First form round rolls, then roll them long.
Place always two rolls next to each other on a baking tray.
Proof for 1 hour.
For glazing roast the starch until golden, then cook the starch with water and let cool to room temperature.
Preheat the oven to 250°C.
Brush the rolls with the glazing and bake with steam for about 20 min at 240°C. For really crisp rolls turn to convection mode during the last 5 min.
Glaze the bread again immediately after taking it from the oven.