There are so many different variants of black bread in Germany that I always feel sorry that my stomach can not cope to much of it. So I can bake one just once in a while and to bake me through all the regional variants will take some time. One really fascinating black bread recipe is the "Klever Schwarzbrot". It uses buttermilk instead of sourdough. This adds enough acid to make the rye bake-able.
The bread has fine lactic flavour in combination with the sweetness of the molasses makes this bread special. And to add some complex flavour notes I added for my recipe a preferment with rye meal, buttermilk and tiny bit of yeast. The preferment adds not only aroma but helps the meal to soak up enough liquid which makes the bread more moist. The same is true for the soaker: the roasted bread crumbs add flavour and the nuts and coarse meal can soak up the liquid. And while this two additional steps makes the recipe more complicated then the "fast" variant with a lot of yeast but it makes it so flavourful that it is worth work.
The only mishap that happened this bread  is that I forgot that the bread should have a shiny crust. I remembered this only after I sprinkled the loaf with flour. But as this does not change the flavour I decided to post the recipe anyway. But I added the right way in to the recipe 🙂
Klever Schwarzbrot
yields 1 Bread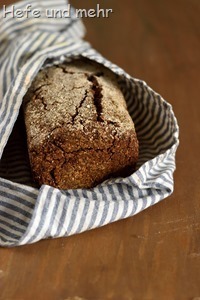 Rye Preferment
250g middle coarse rye meal
500g Buttermilk
0,3g fresh yeast (a tiny bit)
Soaker
100g roasted dried bread, ground to fine crumbs
100g coarse wheat meal
150g Walnuts
250g boiling buttermilk
18g Salt
Dough
150g middle coarse rye meal
300g fine wheat meal
Soaker (50°C)
120g molasses
8g fresh yeast
For the preferment, mix all ingredients and ferment for 16 hours at 25°C.
The next morning mix  all ingredients for the soaker and let them soak for one hour.
For the dough, mix rye meal and soaker, before adding the preferment and yeast . Then knead all ingredients at slow speed for about 10 min.
Ferment for about 45 min.
Grease a bread pan (25cm length for 1 Kilo loaves) . Now form the dough to a long loaf with wet hands. Place in the bread pan and brush with water. The dough should be 2 cm lower then the rim of the pan.
Proof for about 90 min. The dough should peak 2 cm higher then the rim of the pan.  If not, let the bread proof longer.
Preheat the oven to 220°C.  Brush the loaf again with water and place the bread in the oven. Now lower the temperature to 160°C. Bake for 120min with steam. Wrap the warm bread in a wet towel for cooling slowly. Let the bread rest in a towel for at least 24 hours before slicing!