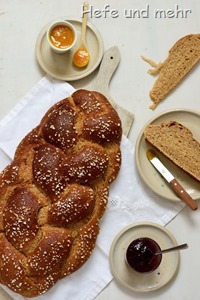 And the next recipe is again a recipe which circled for a long time in my mind before I would write it down. But as soon as I had penned it to paper I was itchy to try it. But with sometime circumstances slowing me down. This time it was first the bread baking course I gave and then the monthly bread baking day in the old wood fired community oven in our local history museum which keeps me from testing. And as I bake more then one bread in the wood fired oven my freezer was afterwards well stocked and with no free space. But…
… I found an excuse for baking the recipe anyway (visiting family or friends is always a good excuse – I can not come with empty hands, can I?).
The recipe I wanted to try so badly was a recipe for a Whole Wheat Braid. Braided Breads are favourites of mine and for about one year I was now thinking about how to manage a sweet whole grainy braid with everything that is typical for a braid: a fluffy, tender crumb which can be torn into long strands and a soft crust.
To manage that I had to ensure that the bran in the flour absorb enough water. And so I used 1/3 of the flour in a preferment and autolysed another bad in a warm milk/cream mixture. This makes it easier to knead the dough to full gluten development – something that is important if you aim for a fluffy bread. And the dough take quite a good amount of liquid while kneading. As it is 28% more then with my favourite braid recipe I'm still not sure if this is due to a higher water binding capacity of my recent flour batch. And so adding the milk to the dough should only be done when needed.
Already when handling the dough I knew that the braid would turn out fine. And when I tried the first slice of the just cooled bread I was more then happy. The crumb can be shred into long strands, as it should be and the flavour is sweet and buttery and have this nutty and a bit tart undertones which are typical for whole grain. A bread just made for all whole grain lovers!
Whole Wheat Braid
yields 2 Braids
Whole Grain Biga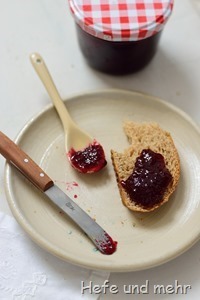 330 g Whole wheat flour
200g Water
1g fresh yeast
Autolysis
370 g Whole wheat flour
100g Whole spelt flour
80g Milk (60°C)
300g cream (60°C)
Dough
Vollkorn-Starter
Autolysis
200 g Whole wheat flour
40g egg yolk (from 2 egg size L)
55g egg (2 egg size L)
15g Salt
19g fresh yeast
100g milk (add if needed)
150g sugar
150g Butter
Dekoration
1 egg (beaten)
pearl sugar
Mix the ingredients of the Biga and let it rise over night in the fridge.
The next morning mix ingredients for the autolysis and let it rest for 30-60 min
Knead all ingredients except sugar and butter for 5 min at slow speed. Then knead 7 min at fast speed. If the dough is very firm, add slowly mil until a elastic and not sticky dough has formed. Now add the sugar in small increments and knead until the sugar is incooperated before adding the next sugar. At last add the butter all at once. Knead to full gluten development.
Let rise overnight in the fridge or  for one hour temperature plus 1-2 hours in the fridge.
Divide the dough and roll it into 12 strands (each about 30 cm). Take always six and braid them. Brush lightly with egg.
Proof for 90 min.
After proofing brush again with egg and sprinkle with pearl . Bake at 180°C for about 45 min with steam.