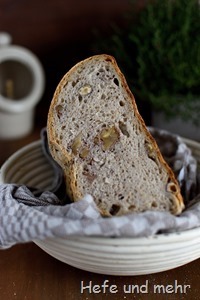 After a mainly cold and rainy summer, the weather turned for some days just when school started. But this was just the last glimpse of summer we got. With the beginning of September it changed again and since then we have typical autumn weather – cold, sometimes rain, sometimes sun. When I drive to work I can see the valley filled with mist– it looks like little clouds snuggling into their beds before sun is waking them for the day. For me autumn is always the season to bake nut breads. And so I bake not only the dark spelt, nut & fruit in the wood fired oven last week, but as well a light spelt bread with hazelnuts and walnuts.
A deep flavour is archived by the combination of a spelt sourdough, a rye sourdough and a sweet starter.  And due to the three lively sourdough adding yeast is theoretically not necessary. But as the community oven is not waiting for anyone  I used a tiny bit of commercial yeast to keep fermentation well controlled and well fitted in the time schedule. And so et the end everything worked as planned: The oven spring was strong,  the crust turned out crunchy and the crumb was fluffy. A perfect day for calm autumn days.
Autumn Bread
yields 2 Breads
Spelt sourdough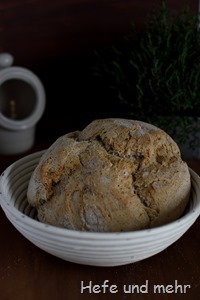 100g Whole spelt flour
100g Water
10g Sourdough
Rye sourdough
100g Rye flour Type 1150
100g Water
10g sourdough
100g Sweet Starter
100g Spelt flourType 630
50g Water
Dough
Rye sourdough
Spelt Sourdough
Sweet starter
540g Spelt flour Type 630
100g Rye flour Type 1150
5g psyllium husk
250g Water
150g Milk
20g Salt
5g enzyme active Malt
(3g yeast, optional)
Nuts
100g Walnuts
100g Hazelnuts
Mix the ingredients for the sourdoughs and ferment for 14-16 hours at room temperature.
Mix the ingredients of the sweet starter and let it rise for 2-4 hours at 30°C until it doubles its volume. Store in fridge until the next morning.
The next morning knead all ingredients 7 min at slow speed and another 2min at fast speed.Add the nuts and knead until well combined.
Ferment the dough for 2 hours total, folding after 45 and 90 min.
Form two round loaves and place it seam side down in the proofing basket.
Proof for 60 min.
In the meantime heat oven and baking stone to 250°C.
Bake with steam for 60 min, reducing the heat to 180°C after 10 min.