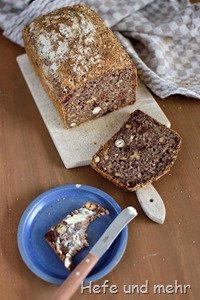 As soon as the temperature drops I start longing for hearty whole grain breads. Blackbread would satisfy all my cravings but I have troubles with the amount of rye. It can cause me stomach ache and so I thought about another alternative. For the monthly bread baking day in the wood fired oven I came up with two nutty spelt breads. One was made with white flour (Recipe will follow), the other is made with cracked spelt and mixture of walnuts, hazelnuts and cranberries. As the cracked spelt is  soaked overnight, it helps to keep the bread perfectly moist. For the right flavour I used molasses and some spelt sourdough which balanced each other perfectly.  Kneading is done in intervals to protect the fragile gluten of spelt and einkorn. This works like a charm and at the end I had a soft but good to handle dough.
And as I'm still in love with my little 500g baking pans I decided to use them for this bread, too. As a bread with this amount of cracked grain does not gain much volume, the amount of 800g dough per loaf fits well in the forms. But we faced another problem when we tried to take the loaves from the wood fired oven: The straigth corners of the pans block the wooden baker's shovel. I feared already that we had to sacrifice the bread and wait until the oven cools down but my fearless companions rescued my little breads before they burned! But I learned my lessons: these pans are not made for that kind of ovens. From now on I will use them in my electric oven at home only.
And I'm glad for the rescue of my bread as it tasted so delicious! It fits well with cheese (especially goat cheese!) and with honey or jam as well. It is moist, nutty and mild with a hint of sweetness due to the cranberries. A perfect bread for the upcoming autumn.
Spelt, Nut & Fruit
yields 3 Breads of 750g
Sourdough
80g whole spelt flour
80g Water
8g sourdough
Soaker 1
400g fine cracked spelt
20g Salt
400g Water
Soaker 2
120g Cranberries
120g hazelnuts
120g walnuts
120g Water
Dough
Soaker 1
320g Water (70°C)
200g whole einkorn flour
200g whole spelt flour
200g fine cracked spelt
sourdough
60g molasses
15g fresh yeast
Soaker 2
Für die Form
For the sourdough, mix all ingredients and ferment for 16 hours at 25°C.
For the soaker, mix all ingredients and let it soak to hours at room temperature, then place it in the fridge.
The next morning, warm the soaker 1 to 40°C (Microwave), then mix warm water with rye meal and soaker, before adding the sourdough, molasses and yeast. Then knead all ingredients at slow speed for about 5 min,5 min, then knead again. Repeat 2 times (Total kneading times 15 min). At the end knead in soaker 2.
Ferment for about 60 min.
Grease three bread pan (16 cm for 500g loaves) and sprinkle with oat bran. Fill in the dough and sprinkle with oat bran.
Proof for 1 hour
Bake at 250°C with steam, turn the temperature to 180°C after 5 min and bake another 55 min by falling temperature.
Let the bread rest for some hours (or better over night) before slicing.