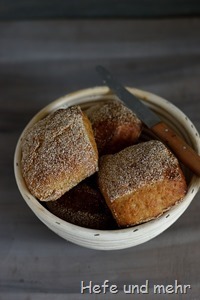 The flour bag with white kamut flour contained still 400g flour which had to be used. And that was the beginning of this delicious rolls. They contain some sweet starter made of spelt which I used directly from the fridge. Using a ripe starter adds a lot of flavour to a bread and is an easy way to use up leftover starter. And the complex aroma notes of the starter harmonize very well with the deep nutty flavour of the Kamut flour.
Kamut is not very complicated to use. It needs just a bit of care while kneading as it tends even more to get over kneaded then spelt. And so I kneaded it only a short time and developed the gluten network with strech and fold circles during fermenting. And you can feel how the dough build up strength while folding. Kamut is really the easiest of the ancient grains!
Kamut Rolls
yields 9 Rolls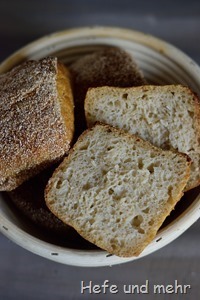 Dough
150g sweet Starter from the fridge, preferably the spelt varaint
400g white Kamut flour
3g Psyllium hulls
50g Sourdough from the fridge (100% Hydration)
315g Water Part 1
10g Salt
2g diastic Malt
6g fresh yeast
50g Water Part 2
For Forming
Mix flour, psyllium hulls, sourdough, water part 1, malt, salt and yeast and knead for 6 min at slow speed. Now start to add slowly the water part 2 in small increments. Knead until fully incooperated.
If possible, place the dough in a square container, as this makes it later more easy to cut the dough into squares. Ferment for 6 hours, folding every 30 min the first 4 hours. After 6 hours the dough should be bubbly.
Sprinkle the surface generously  with bran and carefully transfer the dough on the countertop. Take care to keep as many air bubbles in the dough as possible. As now the other side is facing upwards, sprinkle these side of the dough with bran, too. With a dough scrapper cut the dough into 9 squares of the same size.
Proof for 30 min on a baking linen.
In the meantime heat the oven to 250°C
Carefully place the rolls on a baking tray.
Bake at 250°C for 10 min with steam, then reduce the heat to 230°C and turn the mode to convection to increase the crispiness. Bake for another 15 min.