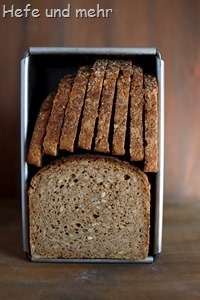 Sometimes I have "phases" in which I concentrate on a special topic while baking. At the moment it is whole grain. Maybe the very cold or dark winter is the reason why I am craving for grains, I do not know. But it is as it is and so I played a bit with the recipe  I posted two weeks ago. The result is a beginner friendly bread which needs not so much planning as works without preferment. To still archive a balanced flavour I opted for a mixture of buttermilk and a tiny bit of balsamico. The amount of balsamico has to be well balanced, as to much can cause a unwelcome stingy tartness. But carefully dosed it creates a flavour with reminders of sourdough taste.
For the rest, I keep the parameters: enough time for kneading and proofing, so the whole grain flour can soak up all liquid its need. And for a little change in the palate I switched wheat with emmer flour. But if you have no emmer flour at hand, it can be baked with spelt flour all along, too.
Three Grain Bread (Variant 2)
Soaker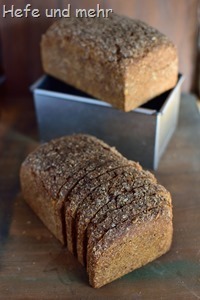 120g Sunflower seeds
100g whole spelt flour
300g boiling Buttermilk
Dough
Brühstück
150g whole rye flour
250g whole spelt flour
100g whole emmer flour
200g Buttermillk
20g Balsamico
30g Water
10g fresh yeast
12g Salt
For the soaker, mix all ingredients and let it soak for at least 2 hours at room temperature.
Now knead all ingredients at slow speed for about 5 min, then at fast speed for about 8-10 min until full gluten development.
Ferment for about 90 min.
Form the bread into two long loaves. Grease three bread pan (16 cm for 500g loaves) and sprinkle with oat bran. Place the loaves in the pan and sprinkle with oat bran.
Proof for 90mom
Bake at 250°C with steam, turn the temperature to 200°C after 5 min and bake another 45 min by falling temperature.