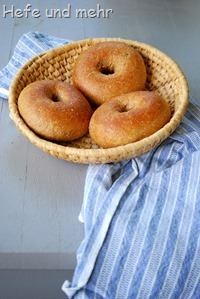 Inspiration is a strange thing. In case of this whole grain bagel it came to me in form of an  advertisement "to-go products" at the side of an supermarket. "Bagels" I told my beloved one while musings "are a good idea". Back home I stumbled across a back of whole spelt flour and the different ideas melted together to one recipe.
As I baked them not in my own kitchen, I simplified the recipe as much as possible: hand kneaded dough and a long resting period in the fridge make sure, that they can be baked with no fancy equipment or preferment at hand.A spoonful sourdough can help to further improve flavour, but it is not mandatory. As the whole grain flour needs more water then white flour, the recipe has a higher hydration then the normal bagel recipe. Together with the overnight fermentation in the fridge this ensures that the bran can soak up all water needed. This helps to keep the crumb chewy and to enhance the bagel shelf life. But anyway – after two days all of the bagels were already eaten as they tasted so good…
Whole Grain Spelt Bagel
yields 7 Bagel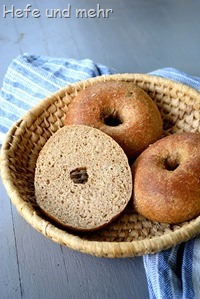 Dough
500g Whole Spelt Flour
315g Water
10g fresh yeast
10g Salt
25g Butter
30g Honey
20g Sourdough(optional)
For Boiling
Knead all ingredients for the dough for 12 min by hand. The dough should be relatively firm and not sticky.
Ferment for 1 hour at room temperature or overnight in the fridge.
Divide the dough into 120g pieces for big bagels and form them to rings. The easiest way to do so, is first forming the dough pieces to balls (see here), then punch a wooden spoon through the middle and widen the ring by rolling the dough between your fingers. At the end you should be able to insert 4 fingers through the hole. Place the bagel on a sligthly floured tea towel, covering with a second one.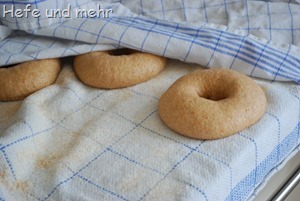 Proof them for 1 hour
Bring water with soda to boil and cook the  cook them for 30 sec each side in boiling water.
Place the bagel on a baking sheet and sprinkle them with poppy seeds or sesame.
Bake at 250°C for 18 min.