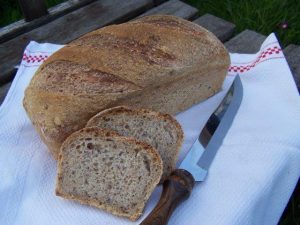 We do house-sitting at my parents place during the Easter holidays. The weather was fine, so we spend a lot of time in the garden. But free days are not perfect without baking for me. I brought sourdough, seeds and grain from home, my mum has a kitchen machine and a lot of bread pans.
I was so glad that it's really a lot of bread pans, because I underestimate the recipe. I was a little bit worried, when I looked into the bowl of the kitchen machine and saw how much dough was inside.
I end up with more then 3 kg dough, which yields 5 loaves between 500g and 1 kg. Luckily I have enough space in the freezer to freeze most of them.
I reduce the recipe for the blog, so it yields now two loaves of 750g.
The recipe is from "Advanced bread and pastry" from Michael Suas, I just replaced the rye flour with millet.
The special part of the recipe is that it uses both levain and prefermented dough, which create a very tasty bread with a light crumb.
Multigrain bread with levain and prefermented dough
prefermented dough:
250g flour (Typ 1050)
150g water
2g yeast
2g salt
Levain:
10g starter
100g flour (Typ 1050)
50g water
Dough:
Whole prefermented dough
Whole Levain
300g flour (Typ 550)
100g wheat, grinded
50g millet, grinded
25g rice, grinded
25g semolina
12 g salt
5g yeast
275 g water
30g oil
30g malt or honey
Soaker:
100g sunflower seeds
50g poppy seeds
50g sesame
50g flaxseeds
100g rolled oats
300g water
Mix all ingredients for the preferment and proof it for 1 hour at room temperature. Then put the dough into the fridge for 12 hours.
Mix the ingredients for the levain and ferment for 12 hours at room temperature.
At the next day mix the seeds with water and soak for 2 hours.
Now mix the different flours with the water and the levain and rest it for 20 min (Autolysis).
Pour the remaining water from the soaker away.
Now add the preferment, oil, salt, honey and yeast and knead 5 min ad the slowest speed and 5 min ad higher speed until medium gluten development. Then add the Soaker at slow speed, knead just as long as needed, so the gluten will not be destroyed.
Proof for 1,5 hours.
Divide the dough into two half. Flat to a rectangle. Fold the longer sides to the middle, and then roll it to a loaf from the small side.
Put into a greased pan, seam side down, and proof for one hour.
Bake at 220°C for 35 min with steam.
I send this post to Zorra (1x umrühren bitte)who hosts Yeastspotting this week.