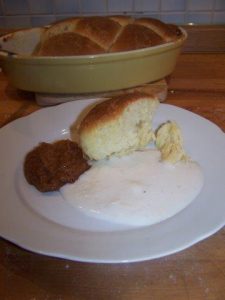 After my Bread baking Adventure I did not bake at this weekend because the freezer was filled with bread.
But today I came home earlier so I had some time to do a more complicated dinner then usual. I like Rohrnudeln very much, with a soup as a starter they are my favorite sweet maindish, so I decided that it was time to bake them again.
I serve them u
nfilled, with custard and apple sauce.
Rohrnudeln
Preferment:
30g milk
30g flour(Typ 550)
10g yeast
5g sugar
Dough:
the whole preferment
500g flour(Typ 550)
275g milk
1 egg
40g sugar
1 pinch salt
40g butter (roomtemperature)
For the pan:
100 g milk
30g sugar
30g butter
Mix all incredients for the preferment and proof for 30 min.
For the Dough mix the flour with milk and egg untill it is homogeneous, then rest for 30 min (Autolysis)
After the Autolysis add Preferment, salt, sugar and butter and knead for 10 min with the machine.
Proof for 1 hour.
For the pan: Heat the milk to 40°C and dissolve butter and sugar, then pour it into the pan.
Form the dough to boules of 80g and place them in the pan. Cover it with a towl and proof for 1 hour.
Bake 30min at 200°C.
[tab:END]
Wer viele beeindruckende Brote sehen möchte, sollte Susans wöchentliches Yeastspotting besuchen.