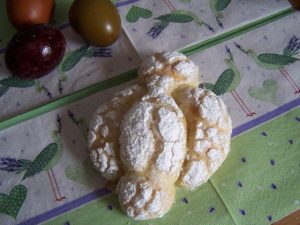 I learned two years ago, that there exist a Easterbread called Colomba, when my italian collegue brought one from Italy after easter holidays with her parents. With this incredibly soft texture of the crumb unter a sugar crust it was one of the delicouse things I ever tested. To sad that my collegue did not bake at all, so she had no recipe for me.
But from that point on I wish to bake a colomba. But I learned very fast, that it is nearly impossible to get a colomba papermold in Germany (and i do not plan to buy 100 papermolds, just for baking one or two colombas per year)
And then, one week ago, I saw a Colomba at Yeastspotting that was not baked in a papermold. This Colombina from Cindystar was on top of my "What I want to bake" list immediately . That the recipe ask for Yeast and not sourdough didn't matter for me, but the fact that the colombina is baked with gluten rich Manitoba-flour worried me a a little bit. I did not get it somewhere in a store, so I end up using as normal my organic flour Type 550.
To make sure, that the gluten will develope nicely, I change the recipe a little bit. Because high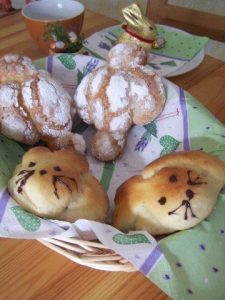 concentration of Sugar and Butter inhibit glutendevelopment, I add this graduently after the gluten development is nearly done.
And because I can not imagine Eastern without Easter bunnys, I formed some with this dough, too. I found the instruction for them, like so much others, at Chefkoch.de
Update: the Roundup of the Happy Easter Backing! event is now online.
Colombina
yields 11 little doves (or 7  doves and 4 bunnys)
500g flour(Typ 550)

170g  water

15g fresh yeast

2 eggs
5g Salt
grated Orangezest
1 vanillabean
100g sugar

100g. butter
glaze:
50g sugar
25g flour
1 to 2 tbs water
powdered sugar
Dissolce the yeast in water, then add flour, salt, spices and eggs and knead in the kitchen machine for about 5 min at the slow speed. Then switch to fast speed and knead another 3 min, untill medium glutendevelopment. Now add the sugar, in about 5 or 6 increments. Mix for one between additions. After the sugar add the butter in the same way. Now knead untill the gluten is fully developed, about 5 min.
Proof for 1 hour.
Devide the dough in 80g pices and let it rest 15 min. Cover it with a towl.
For the Colombina roll die dough to a small cylinder, then cut the cylinder into two half. One half will form the wings, the other half the body.
For the wings roll the dough to a length of about 20 cm and bend it to a "U". Now roll the body (about 15cm), leaving 3 puffs for head, body and tail and put it over the wings.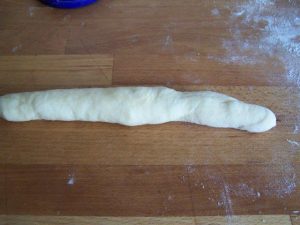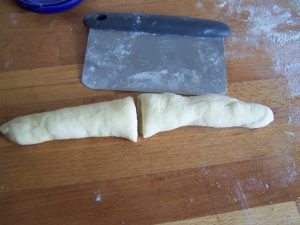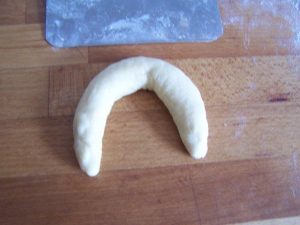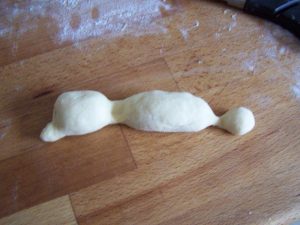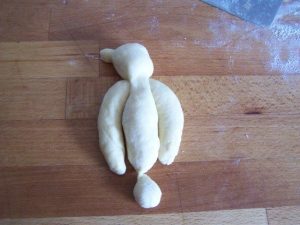 Proof for 1,5 hours.
For the glaze combine flour, sugar and water to a thick batter. Carefully spread it over the doves immediately before baking and cover the dough with a lot powdered sugar.
Bake at 220°C for about 10 min. The doves don't have to brown.
For the bunnies form a cylinder of 20 cm length again, leaving to puffs at one End (see picture). Now form loop with the longer End and put the to puffs on top. Cut the last puff with a scissor, this will be the ears of the bunny.
Proof for 1,5 hours, too. Glaze with milk before baking and bake at 220°C for 15 min.
I'm sending this Colombina to Cinzia (Cindystar) for her Happy Baking Easter! event.